International Superstars to Perform at the Month-Long QetaiFAN Beach Fest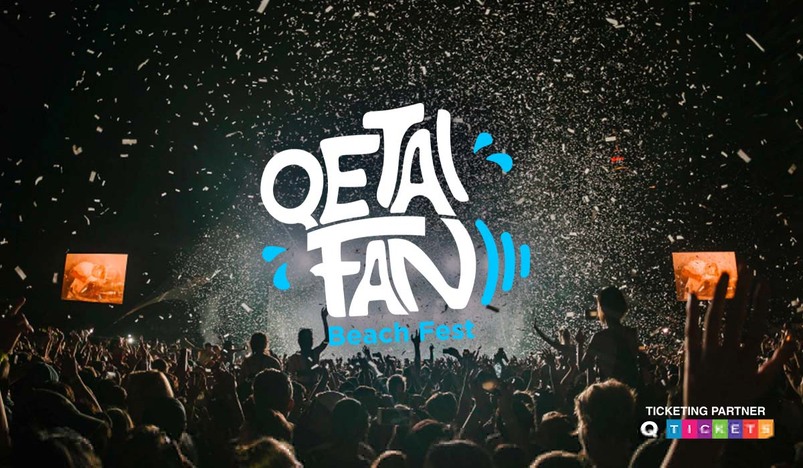 QetaiFAN Beach Fest
Great Music, Football, Beach Activities, Food, and a Good Cause!
International superstars including French Montana, CeeLo Green, Alex Sensation, Ryan Castro, Oxlade, and DJ-Twins will perform at the month-long QetaiFAN Beach Fest running from 19th November to 18th December on the waterfront at Qetaifan Island North in the new City of Lusail – home to the stadium that will stage this Qatar's 2022 World Cup Final.
From 10 am to 4 am, the festival of "music, football, food, and fun" will take place, with six performances per day, several off-stage performances all through the month, daily DJ sessions from 50 top international DJs, and over 10 top-tier international performers.
Organized by Qetaifan Projects and UVentures, together with Madaeen Al Doha Group and in strategic partnership with Fusion Hospitality and Exhibitions, the fest is an independent entertainment zone, and tickets are available on Q-Tickets
In partnership with Numbers Only and Playing for Change Foundation, the festival is also raising funds to develop music schools around the world for underprivileged children – helping them to grow, communicate and express themselves through music.
QetaiFAN Beach Fest brings together people from all different cultures and walks of life through the 'international languages' of music and football. In addition to a tented Fan Camp alongside the beach-front site, the event offers attractions in four main categories: Music, Football, Food and Fun.
PRIME BEACH AREA: The largest beach offering in the history of the Region with entertainment and amenities over 4,000 cabanas & sunbeds, shisha service, and activities.
MUSIC: Concerts of all kinds, featuring over 120 artists in a blend of Latin, Arabian, Afro, Caribbean, International headline performers and renowned DJs – with the party lasting until 4 am.
FOOTBALL:  All 64 World Cup matches broadcasted live on giant screens, where fans can gather in their thousands and enjoy together the magic of the tournament.
FOOD AND BEVERAGE: Over 50 food and beverage concessions, with 20 designated international beverage sales points including local and global cuisines.
EXCLUSIVE VIP EXPERIENCE: Select areas and privileged services for VIP guests, including royals, football legends, celebrities, diplomats, and other distinguished guests.
FUN: Beach sports tournaments, hot-air balloon rides, water games & sports, football-related challenges, banana-boat rides, e-sports, VR experiences, and much more!
General Admission (Early Bird)
Festival Access 
Beach Access 
DJs, Daily Performances and Artistic Content 
Football Matches Broadcasting in giant screen 
Cashless Payment System
Premium
Exclusive Access to Premium Festival Lounge 
Parking available in Designated Areas 
Buffet Style (12:00PM - 1:00AM) 
Soft Drinks (12:00PM - 10:00PM) 
Standard International Beverages (4:00PM - 10:00PM)
Standard and Premium International Beverages Available
DJs, Daily Performances and Artistic Content (Premium area Stage Viewing) 
Football Matches Broadcasting (Premium Screens) 
Cashless Payment System
VIP
Exclusive Access to VIP Festival Private Lounge 
VIP Exclusive Parking 
VIP Entrance 
Private Table and Premium Service 
Buffet Style (12:00PM - 1:00AM) 
Soft Drinks (12:00PM - 10:00PM) 
Standard International Beverages (4:00PM - 10:00PM)
Spending Credit Premium International Beverages Available
Exclusive DJs, Daily Performances and Artistic Content (Privileged Stage Viewing)
Football Matches Broadcasting (Premium VIP Screens) 
Cashless and Direct Payment System
Artists Line-Up: Ceelo Green, Alex Sensation, French Montana, Oxlade, Ryan Castro
DJs: 3lias, Alev Tav, Alex Neri, Audiokult, Baykara Alican, Betoko, DJ Free Spirit, Eli Rojas, Fabrizio Marra, Glenn Jose Manders (GOOD NITE), Gunther, Henry, Joeski, Jose Maria Ramon, Kozzuto, Tom Eele (GOOD NITE), Marco Bailey, Nick Muir, Paul Sawyer, Sunbios (Irina + Denis)
Date: 19 November 2022 - 18 December 2022
Time: 10:00 AM to 4:00 AM
Location: Qetaifan Island North
Ticket Pricing: 
•    General Admission: QAR 241 (USD 65)
•    Premium: QAR 1850 (USD 500)
•    VIP: QAR 5550 (USD 1500)
Book Tickets On: q-tickets.com/qetaifan
Additional info:
Nearest Metro Station: Lusail QNB (Red line)
Nearest Accommodation: Fan Village Qetaifan Island North
Access: Event admission ticket required and ticketed activations (free entry for guests staying at Fan Village Qetaifan Island North)