Insta-worthy Cafes in Qatar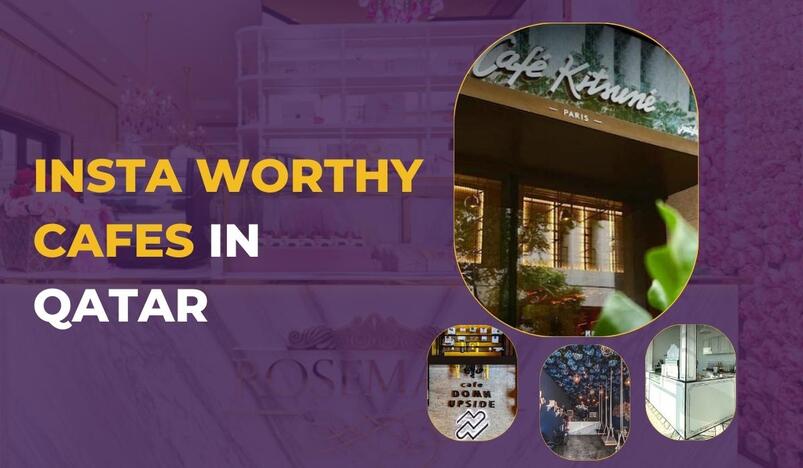 Insta-worthy Cafes in Qatar
Qatar exhibits the most incredible and instagrammable cafes, with World Cup nearing there are many eyecatching insta worthy cafes in Qatar. Expect to indulge in the ultimate foodie experience, while capturing iconic shots for your Insta followers. From pink-themed eateries, floral interiors and asymmetrical cafes…you are spoilt for options.
Here are 5 of the most instagrammable cafes to capture awesome moments in Qatar.
Cafe Kitsune
The aroma of freshly roasted coffee fills the air at Café Kitsuné Doha Msheireb. Café Kitsuné coffee, carefully prepared by experienced baristas, strikes a delicate balance between savory and full-bodied. The space, distinguished by its minimalism, pure lines and sophisticated detailing, seamlessly blends into Doha's cosmopolitan surroundings.
Contact: 3144 4921
Location: Msheireb Downtown
Upside Down
As the name suggests, everything is Upside Down. From the chairs and tables suspended from the ceiling to the serving cups, this is one of the coffee shops in Doha that must be experienced to be believed. All the cups and desserts are also served flipped upside down in special cups and mugs. 
Contact: 6619 3499
Location: Corniche
Ink Cafe
A black and white themed cafe at Lusail Marina with one of the best coffees in town . It has fun-filled design and delightful use of optical illusion, a must-visit for decor-loving Instagrammers. 
Contact: 7441 4481
Location: Lusail Night Market
Blue Signature Cafe
The beautifully decorated coffee shop is covered with blue flowers, and there are swings for you to sit, or pose, on! You can also try their Signature blue coffee while chilling on their Floral Swings.
Contact: 7776 7577
Location: Azizyah
Rosemary Cafe
A beautiful rose-covered canopy over the outdoor terrace is spectacular, and you can expect plenty of pink throughout. Their desserts are as pretty as the cafe and even more tastier.  
Contact: 4465 0797
Location: Al Hazm Mall
EL&N Cafe Qatar
Inside Msheireb's Galleria Mall, London's Instagrammable cafe inaugurated its first overseas location. This pink cafe is called EL&N Cafe, which stands for Eat-Live-Nourish. Take a picture in front of the floral swing booth, try the EL&N Shakshuka, and get a Matcha Rose Iced Latte.
Contact: 5592 4433
Location: Msheireb Downtown
Sub Zero
Walk in the crystal path of an icy wonderland! You can "chill" here, while you indulge in a cup of Hot Chocolate with your friends or family. You will find that their tables and chairs are also made out of ice. Enjoy the chilly -7° weather at Subzero.
Contact: 4017 0422
Location: Pearl Qatar
Amora Cafe
A Pink Instagrammable cafe for special occasions or place to have great time with friends or family. The walls are covered with all shades of pink roses.  They also serve some delicious food with beautiful and delicious concepts, which is also Pink in colour. Thier Pink Alfredo Pasta is a must-try.
Contact: 6655 6011
Location: Tawar Mall
Cafe Pouchkine
A renowned name in the world of gastronomy, Café Pouchkine offers an exquisite blend of Russian and French cuisines. Intended to be an affordable luxury venue, this French-style café serves aristocratic Russian cuisine in a warm and comfortable atmosphere. Sprinkled with subtle and classical references, the decor will offer visitors a tasteful dining experience within Galeries Lafayette Doha.
Contact: 3380 5566
Location: Galaries lafayette