Illegal Dealing in World Cup Tickets Will Cause You 250,000QR Fine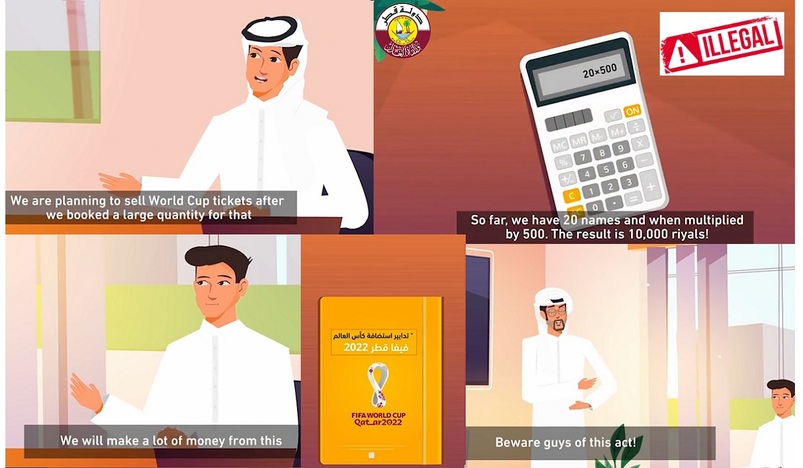 Penalty for Illegal FIFA World Cup Tickets Transactions in Qatar
Thinking of reselling your FIFA World Cup ticket to a higher price? Think again.
According to Article 38 and in accordance with Law No. 10 of 2021 regarding measures to host the World Cup, those prohibitions may constitute a criminal offense punishable by a fine not exceeding 250,000 QAR for whoever issues, resells, redistributes or exchanges tickets without a license from FIFA or his representative. This was tweeted by the Ministry of Justice on July 27.
What Should I Do to Avoid Getting the Penalty?
"Please note that you shall not, whether physically or online, offer for sale, sell, offer at auctions, give away or otherwise transfer or attempt to transfer, or engage a third party to facilitate or solicit offers for the transfer of their tickets under any circumstances, including any use or attempted use of tickets for advertising, promotions, incentive programmes, sweepstakes, contests, giveaways or raffles or as part of hotel, flight, hospitality or travel packages, or other commercial purposes, except as expressly authorised in writing by FIFA Ticketing, or as permitted by the Ticket Terms of Use," according to the FIFA website.
What Are the FIFA Tickets Terms of Use?
In accordance with the Ticket Terms of Use, guests are not permitted to transfer tickets under any circumstances. Based on the ticketing terms and conditions in FIFA website, a ticket applicant is only permitted to assign tickets to guests either free of charge or for an amount no greater than the face value of the ticket.
What If I Cannot Use My Tickets?
"If you cannot attend a match, you may put all your tickets up for resale on the official FIFA Resale Platform, subject to the applicable conditions," FIFA stated.
If a guest can no longer use a ticket, then it must be returned to the ticket applicant. Only the ticket applicant is permitted to reassign a ticket to another guest. FIFA has yet to provide further information on the process of ticket transfer to a guest. The FIFA Resale Platform and the respective Resale Policy will be made available at FIFA.com/tickets in due course.
Today, you can still purchase tickets while the First Come First Served sales period is still open. You may apply again for tickets for the FIFA World Cup Qatar 2022 through the First Come First Served sales period of Sales Phase (2) that has started since July 5 at 11:00 CEST / 12:00 (midday) Doha time and will end on August 16 at 11:00 CEST / 12:00 (midday) Doha time.
"For further ticketing information and updates on the FIFA World Cup Qatar 2022, please visit FIFA.com/tickets regularly," FIFA stressed.
Source: Ministry of Justice and FIFA