How To keep Yourself Safe And Healthy This Summer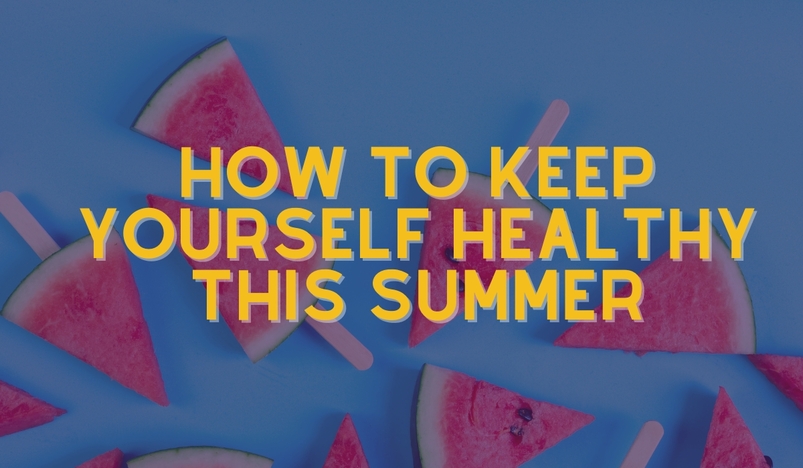 How To keep Yourself Safe And Healthy This Summer
Being healthy should be involved in your overall lifestyle. This is because living in a healthy lifestyle can help you in avoiding chronic diseases along with sicknesses that may end up lasting for a long period of time. keeping yourself healthy and safe are also considered very important as this shows a high value to your self-esteem and image. Also maintaining a healthy lifestyle by doing what is correct for your body. However, there is no need to add pressure on yourself for physical workouts but you will need to keep as active as much as you can.
1.    Staying hydrated: When it is the season of summer, water should be your best friend as it will keep you hydrated and plenty of water must be consumed. This is very crucial period of time to be consuming a lot of fluids even if you are not thirsty as drinking water would save you from dealing with heat stress from the sunlight along with high temperatures. You can also drink ice water if the heat is very strong this summer.
2.    Protecting your skin: Another way of keeping yourself healthy this summer is to protect your skin because if your skin is damaged due to the sunburns, then it will leave you exposed to developing a skin cancer. And this is very common and popular in the United states of America. So to avoid this issue you must apply a proper sunscreen and keep applying it every hour or two while you are out in the sun. 
3.    Staying safe in the water: During the period of summer. It is highly recommended that you visit the beaches or swimming pool as this is highly considered as one of the best activities for a summertime. This is because swimming is an excellent exercise during summer but only do it if you know how to balance yourself in the water to avoid drowning.
Staying healthy and safe is highly recommended during a summer period as it can help you avoid skin cancer if you apply sunscreen while being out there in the heat. And it can also save you from suffering from skin cancer. It is also highly recommended to drink plenty of water to keep your body fully hydrated. Even ice water can work in this case along with certain exercises such as swimming or even visiting the beaches as these are suitable.