How to Get a Canadian Work Permit in 3 Easy Steps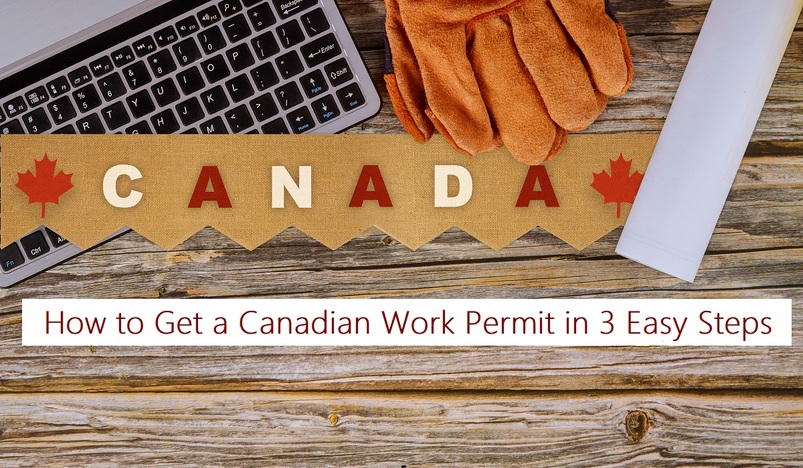 Work Permit Process in Canada
People from around the world choose to work in Canada for many reasons. Those may include the fact that Canada has one of the highest minimum wage rates, the country practices a very healthy work-life balance, and working in Canada can lead to immigration, eventually.
Furthermore, Canada is known for the vast amount of job opportunities in various fields and industries. Learn here how you can get a Canadian work permit in 3 easy steps.
How to Get a Canada Work Visa – Step by Step
There are a few steps you need to take in order to successfully obtain a Canadian work visa: 
Step 1: Choose a work permit that suits you
There are two main Canadian work permits - the are the open work permit and the employer-specific work permit. The differences are:  
1. Open Work Permit - This permit allows you to work for any employer, anywhere in Canada. Obtaining this type of visa can be done via the International Mobility Program (IMP), which includes several work permit programs.   
2. Employer-Specific Work Permit - this visa has certain conditions that you'll have to follow, including being limited to one employer and position. The visa can be obtained through the Temporary Foreign Worker Program (TFWP).
It's important that you understand exactly which visa you'll need to obtain because the type of work you do in Canada will depend on the type of work visa you will need.   
Step 2: Check if you qualify for a Canadian work visa
Each and every work permit program will have different requirements that you'll need to meet. However, there is a general list of requirements that all foreign nationals need to meet in order to receive a work permit.
Below are the eligibility requirements:
•    prove to an officer that you will leave Canada when your work permit expires;
•    show that you have enough money to take care of yourself and your family members during your stay in Canada and to return home;
•    obey the law and have no record of criminal activity (you may have to give a police clearance certificate);
•    not be a danger to Canada's security;
•    be in good health and have a medical exam, if needed and
•    not plan to work for an employer listed with the status "ineligible" on the list of employers who failed to comply with the conditions. 
Other applicants that are eligible to apply for a Canadian work permit are:
•    A dependent family member that has already applied for permanent residency.
•    A spouse or common-law partner of an Atlantic Immigration Pilot program or international student applicant.
•    International students that intend to work more than 20 hours a week. 
•    Recent graduates from Hong Kong.
Step 3: Submit your work visa application
The Immigration, Refugees and Canadian Citizenship (IRCC) will make sure you have all the necessary documents. However, if the visa application is incomplete, the IRCC will send your application back to you without processing it.
It's important, therefore, to ensure that your application is completed properly and that you have all the necessary supporting documents. Having your application sent back can cause a massive delay in processing time (which isn't short anyway, unfortunately).
Increase Your Chances of Success with a Dedicated RCIC
Ultimately, there is no way to ensure you'll receive a Canada work visa, but you can do several things to ensure you improve your chances. With the help of a Regulated Canadian Immigration Consultant (RCIC), you will know exactly what documents you need to provide and when to submit them. In fact, the RCICs do most of the hard work for you and submit your visa application on your behalf.
This way, you know that it won't be returned as incomplete or incorrect for any reason. Click here to learn how to get a Canadian work visa, as well as get more information on how a professional RCIC can simplify your visa application and help you move to Canada in the shortest way possible.