How to Fill Out a Fax Cover Sheet Online?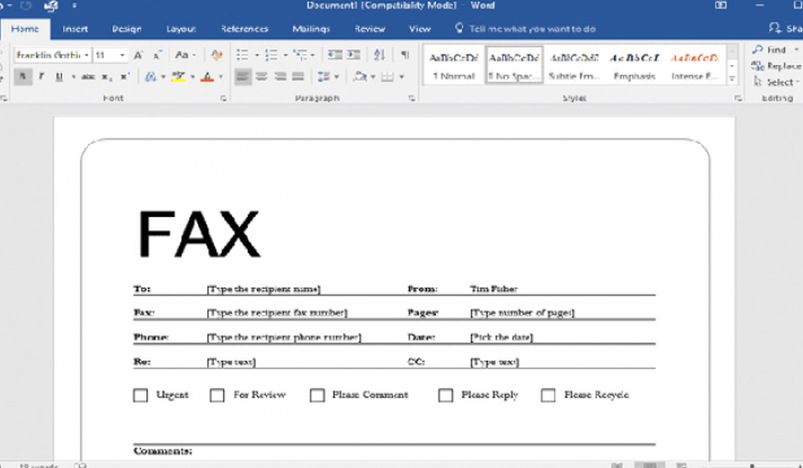 How to Fill Out a Fax Cover Sheet Online?
A file to be attached to a email is described in the mail body, so the receiver can understand broadly what the file is about without opening it. A fax cover sheet is a similar document which provides information about the sender and intended recipent of the fax. A Printable Fax cover sheet is good to used from the point of view of both the sender as well as the recipient. Usually the cover sheet is sent through before the actual fax contents. 
Most fax cover letters you will send or receive would be very business like and only state necessary information. But in certain cases, like for fax ads, you would beed to incorporate same elements of design into them.
If you have read any fax message carefully, you will notice that most of the elements in a standard fax cover page are seen on the top or bottom margins of the actual fax message as well, making the fax cover page seem superfluous. But it is still to send a fax cover steet across first to ensure that only the intended recipient reads the pages of your fax.
What does a typical fax cover sheet contain? First, it introduces the sender. So there will be space of sender's name, sender's organization name, the fax number from which it is being despatched, the telephone number ( as distinct from the fax number) where the sender can be contacted and the sender's email id, if available. Many pre-disigned fax cover sheet templetes used by corporate also have the company's logo by default, for easy identification at the receiver's end. Next, a fax cover sheet would contain receiver details, a fax cover sheet would usually contain a brief description of the subject(if not confidential).
Most senders try to put some kind of a timeline of expected response on the fax by specifying whether the subject is urgent or not. Additionally, some senders add a short note to the receiver, like 'Hi Jim, here is the summary of our bill of work which you wanted to see'. Although a fax can be sent at one time only to a particular recipient (by sending to a particular machine). You will sometimes see acc field which stands for carbon copy. What it contains are the names of other recipients to whom that fax will also be sent later.
Now that you know the elements of a typical fax cover sheet, you are ready to create some for yourself. 
you can also log on to the internet and find readly available templates for your use directly or for incorporating those ideas into your own design. 
Sine so much of our time is spent online nowadays, it is also instrutive for you to know to fill out a fax cover sheet online.
Let us see how to create a fax cover sheet online while you are logged into Microsoft Word. That way, you can continue to fill out the template using Word. Inside Word Online, there are several templates which can be used. You should select File, then New, and then click on More on office.com. The page you woould be taken to is the overall page of Templates for Word.
One of the categories on that page is Fax Covers. Once you have selected the design you will use, you can simply fire a print of as many blank copies as you need, by using Ctrl+P command.