HMC Achieves Medical Breakthrough in Reconstructive Microsurgery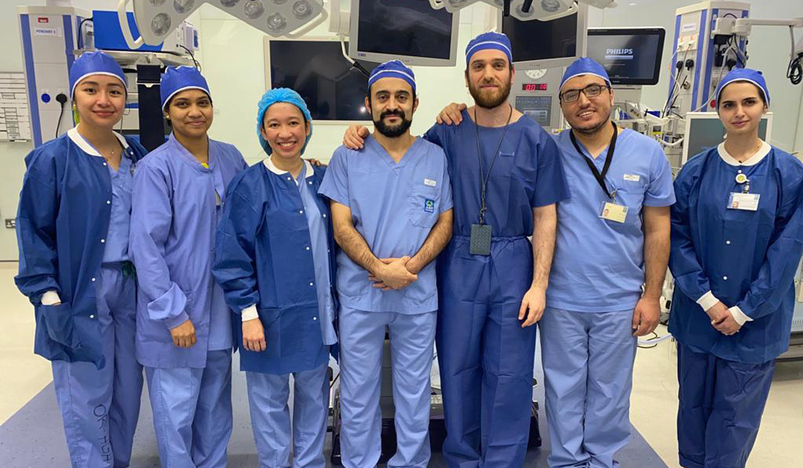 HMC Qatar
Hamad Medical Corporation (HMC) has achieved a scientific milestone and surgical innovation in the field of reconstructive microsurgery and hand surgery. This new surgical innovation, 'Qatar Flap', facilitates the functional and cosmetic restoration of various fingertip injuries, restoring the natural function of the finger without any disability or disfigurement, making it easier for patients to resume their normal lives after undergoing cosmetic surgery.
Dr. Saleem Al Lahham, a Specialist in the Department of Plastic Surgery at HMC said: "Hand injuries are common and the Department of Plastic Surgery at HMC receives many hand injuries that require a precise surgical intervention to restore the finger's functional and anatomical state. Given the different types of finger injuries, the surgical procedures available may vary, but these surgeries often leave painful scars on the fingers and some require sacrificing major blood vessels in the fingers, making them undesirable options for patients. " Dr. Al Lahham, the innovator of this flap, explained that this surgical innovation is based on functionally and cosmetically repairing fingertip injuries through a single surgical procedure that involves one of the small secondary arterial branches, which contributes to restoring the fingers to their natural shape without any disability or deformity. Dr. Al Lahham noted that the new surgical innovation "Qatar Flap" reflects the capabilities and resources provided by Qatar and HMC to medical professionals to deliver the best treatment to patients.
"More than 100 surgical procedures have been successfully performed using this surgical innovation, and we perform five surgical procedures of this kind per week. It is expected that this innovation will become the preferred option for fingertip restoration surgeries worldwide, in addition to the medical and scientific value it adds to various surgical specialties," added Dr. Al Lahham.
The surgical innovation was covered in a scientific article published in the journal "PRS GLOBAL OPEN," one of the most reputable peer-reviewed journals in the field of reconstructive and cosmetic hand microsurgery. The journal described HMC's innovation as a brilliant breakthrough that will enhance the outcomes of finger restorative and cosmetic surgeries, considering it a reliable option to be performed in a single surgical procedure while preserving the finger's arteries.
(QNA)