Heenat Salma Farm: An Oasis of Sustainability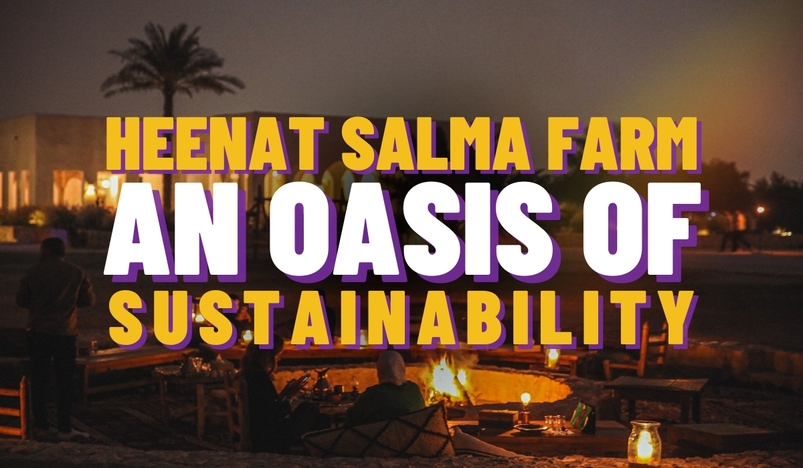 Heenat Salma Farm: An Oasis of Sustainability
Nestled in the breathtaking desert landscapes of the Shahaniya district, about 50 kms north-west to the vibrant city of Doha, Qatar, lies a hidden gem that promises an experience like no other for all who venture there. 
Here's everything you need to know about the Heenat Salma Farm - an enchanting eco-farm and camp that transports you to a world of holistic agriculture, awe-inspiring architecture, and flourishing community development.
Once a conventional farm, Heenat Salma has emerged as a triumphant champion of nature's wisdom, metamorphosing into an organic permaculture sanctuary. Permaculture is the concept of utilizing land, resources, people and the environment in a manner that doesn't produce any waste.
Founded in 2012 by a passionate group of Qatari and international professionals, Heenat Salma Farm stands as a testament to the power of vision and unwavering commitment to sustainability. Certified organic by the Qatari Ministry of Environment and Climate Change, the farm's dedicated team of experienced farmers harnesses the wisdom of traditional and sustainable methods to cultivate their bountiful crops. But Heenat Salma's impact extends far beyond its lush fields. It actively engages with local communities, championing sustainable development and fostering social responsibility. As a result, the farm has become an invaluable asset to Qatar, propelling the country toward a more sustainable and harmonious future.
This visionary establishment defies the arid conditions of the desert, cultivating a cornucopia of desert-friendly plants and vegetables that breathe life into Qatar's local food production. With each harvest, Heenat Salma contributes to a renewable, home-grown food supply, not only nourishing the local community but also inspiring sustainable practices beyond the country's borders.
The myriad of experiences at Heenat Salma Farm range from clay art and pottery to literature and meditation. A tour of the farm is sure to give you a glimpse into the agricultural practices behind the many diverse crops flourishing under the radiant desert sun. Expert guides working at the farm will unveil the ingenious methods employed to grow these precious jewels of sustenance, inspiring you to see agriculture in an entirely new light.
Your experience at the farm is incomplete without the immersive workshops on permaculture, organic gardening, and other sustainable agriculture practices. These hands-on sessions will empower you with knowledge and skills that will forever transform your relationship with the earth, leaving you equipped to make a positive impact on our shared planet. For those into cooking, or simply a lover of all things food, you could indulge your senses in a culinary workshop that brings to light the means to transform organic ingredients into mouth watering culinary delights. Don't worry if you are a newbie though! Rest assured the guidance of the seasoned chefs at these workshops will surely help you create masterpieces infused with the freshness of freshly plucked Heenat Salma's produce.
If you're looking for a quiet retreat, the farm's got that too. You can embrace the spirit of the desert by immersing yourself in the tranquil embrace at the eco-lodge, surrendering to the allure of the desert landscape under starlit nights and golden sunsets. Here, the harmony of nature and sustainable living blend seamlessly, leaving you with a heightened sense of connection to the Earth and its nurturing embrace. Whether you seek knowledge, personal growth, a reconnection with the natural world, or simply yearn for a distinctive and rewarding experience in Qatar, make it an absolute priority to visit this sustainable oasis.
For a complete list of the many activities and workshops offered by the farm, visit Q-Tickets.com. 
Location Map: Heenat Salma Farm
Tickets: Q-Tickets
Contact: +974 4441 1195/ +974 5096 0007