Hayya Fan Zone at Lusail South Promenade Guarantees an Enchanting Experience for all Fans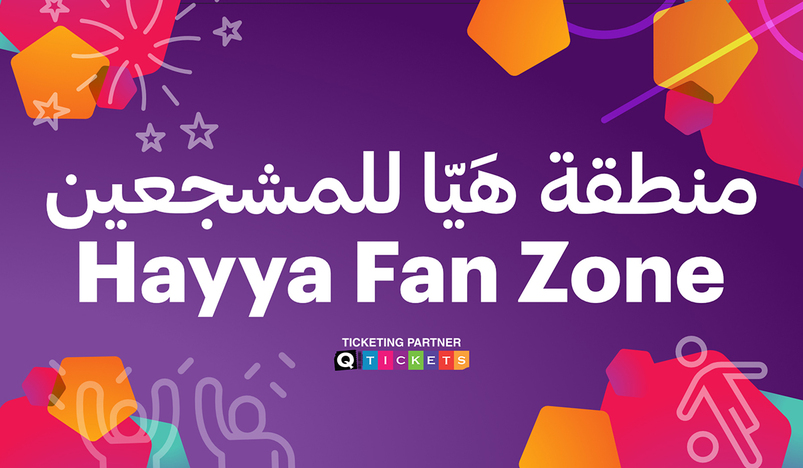 Hayya Fan Zone
Located on the Lusail South Promenade, the Hayya Fan Zone guarantees an enchanting experience and is THE place to watch, celebrate, eat and discover! 
The Fan Zone is set to feature on stage non-stop entertainment from DJs and international bands along with live entertainment from caricaturists to magicians throughout the Hayya Fan Zone.
Fans can look forward to daily live screenings of each and every match on 3 stunning mega-screens.
MULTIMEDIA & GAMES
Hayya Fan Zone is the place to immerse yourself in the world of football and bring out the gamer in you, football activations and challenges to win! Whether it's e-gaming or virtual reality, make sure to go see how high you can score!
ICE SKATING ARENA
The Ice Skating Arena at Hayya Fan Zone offers you the perfect opportunity to switch up the energy and skate away! From renting a pair of skates and testing out your skills on the ice, to actually learning the basics from a real ice ballerina, the Hayya Fan Zone is sure to make you enjoy every second.
MAGICAL ICE ARENA SHOWS
Get ready to be dazzled at the most beloved ice ballets from world class international figure skaters, a dose of energy on ice! The events are given below:
SWAN LAKE: CLASSICAL BALLET ON ICE
A rendition of Tchaikovsky's spectacular masterpiece- Swan Lake will be one of the main events in the Hayya Fan Zone at Lusail South Promenade in the form of a classical ballet performance on ice.
Widely renowned as one of the most beautiful ballet pieces, Swan Lake was fashioned from German folk tales and tells the magical love story of Prince Siegfried and Princess Odette. This classical ballet is filled with intrigue, enchantments, spectacular dances, and the world famous musical compositions of Tchaikovsky, Swan Lake is not to be missed.
LOCATION: Hayya Fan Zone, Lusail South Promenade
Dates: Nov 20th - Nov 30th, Dec 11th - Dec 14th
SLEEPING BEAUTY: LEGEND OF TWO KINGDOMS
The timeless classic of Sleeping Beauty is all set to be performed at the Hayya Fan Zone in the form of an exciting ice skating performance.
Featuring world-class athletes, Olympic figure skating champions and award-winning choreography, composers, directors, screenwriters, costume designers, scenography and graphic design experts, this production is a must-see for any fan of the sport an dpromises to be a truly magical experience.
LOCATION: Hayya Fan Zone, Lusail South Promenade
Date: Nov 21st - Dec 18th
CATEGORIES
REGULAR ADMISSION
Enjoy the wonders of the Hayya Fan Zone including live screenings, live shows and non stop entertainment.
HAYYA SUPERFAN
Experience all the wonders of the Hayya Fan Zone- catch a game or two, challenge your friends in the Multimedia and Games area, witness a dazzling daily show on ice, and skate in the evening, a full fan experience!
HAYYA ALL MONTH
Catch all 64 matches LIVE on the megascreens, and everything on stage in between at the Hayya Fan Zone! You won't miss any of the action on the field.
VIP PACKAGES
VIP Entrance: Enjoy a luxurious football viewing experience from our VIP lounge, all-day catering, and the best view of the stage.
VIP All Access: Experience all the best of the Hayya Fan Zone, from a Gold ticket ice show seat, the VIP lounge, and everything in between.

The Hayya Fan Zone will be open from November 20th through December 18th, 12pm to 1am. Make sure to book your tickets on www.q-tickets.com