Handbag 'smaller than a grain of salt' sells for over $63,000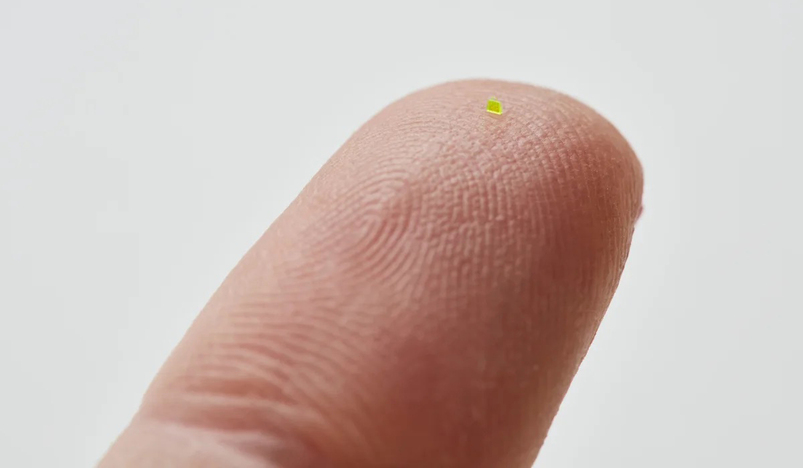 Microscopic Handbag
A minuscule handbag measuring just 657 by 222 by 700 microns (or less than 0.03 inches wide) sold for over $63,000 at an online auction Wednesday.
Barely visible to the human eye, the fluorescent yellowish-green bag is based on a popular Louis Vuitton design — though it is the work of a New York art collective, not the luxury label itself.
Dubbing its diminutive creation "Microscopic Handbag," the Brooklyn-based group MSCHF claims the bag is narrow enough to pass through the eye of a needle and is smaller than a grain of sea salt (though that may depend on how coarse you like your salt).
The object was made using two-photon polymerization, a manufacturing technology used to 3D-print micro-scale plastic parts. It was sold alongside a microscope equipped with a digital display through which the bag can be viewed.
A promotional photo shows the design in greater detail, revealing Louis Vuitton's signature "LV" monogram. The bag appears to be based on the French label's OnTheGo tote, which currently retails at full size for between $3,100 and $4,300.
The sale was hosted by Joopiter, an online auction house founded by American musician, record producer and designer Pharrell Williams. Although Williams currently serves as Louis Vuitton's creative director of menswear, MSCHF's chief creative officer Kevin Wiesner previously told the New York Times that the collective had not sought his or the French label's permission to use its logo or design.
"Pharrell loves big hats, so we made him an incredibly small bag," he told the newspaper.
Founded in 2016, MSCHF has made headlines with its so-called "drops," irreverent art projects that often poke fun at — while profiting from — consumer capitalism. The group was infamously sued by Nike over its "Satan Shoes," a series of 666 pairs of modified Nike sneakers featuring satanic symbols and drops of real human blood. The dispute was eventually settled out of court.
Known for teasing the art world for its excesses — whether selling forged Andy Warhol drawings or cutting up Damian Hirst paintings — the collective has also turned its attention to luxury fashion.
In 2021, the group ripped up four Birkin handbags to create sandals (dubbed "Birkinstocks") that it offered for up to $76,000 a pair. More recently, its cartoonish rubber boots, known as "Big Red Boots," became a viral sensation after being worn by stars including Doja Cat, Iggy Azalea and Janelle Monáe.
Prior to this week's sale, MSCHF declined to answer CNN's questions on the creation of its handbag. However, a statement published alongside the auction listing posited that the fashion industry's love of small bags had seen them "steadily more abstracted" to the point that the accessory is "purely a brand signifier."
"Previous small leather handbags have still required a hand to carry them — they become dysfunctional, inconveniences to their 'wearer,'" the statement added. "'Microscopic Handbag' takes this to its full logical conclusion. A practical object is boiled down into jewelry, all of its putative function evaporated; for luxury objects, usability is the angels' share."