Growth of Qatar's startup ecosystem 'on track,' says industry expert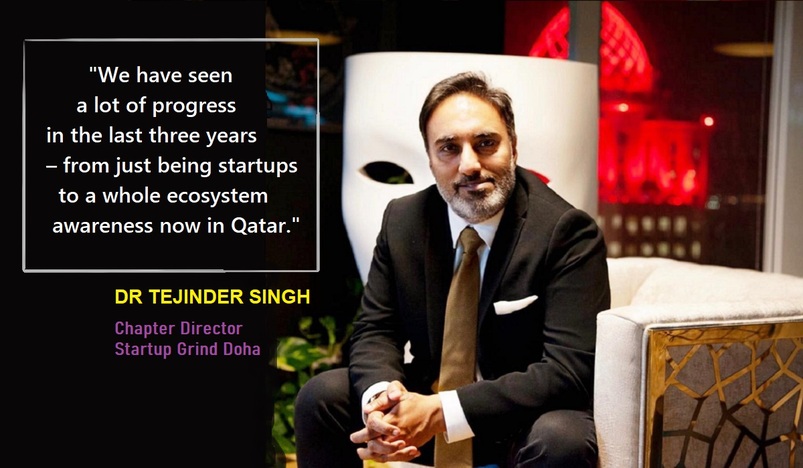 Dr Tejinder Singh
Backed by extensive private and public sector support, Qatar's startup ecosystem is witnessing steady growth, according to an industry expert.
Dr Tejinder Singh, the chapter director of Startup Grind Doha, said agencies like Qatar Development Bank (QDB), Qatar Business and Incubation Centre (QBIC), Qatar Science and Technology Park (QSTP), and the Digital Incubation Centre (DIC), as well as the Ministry of Communications and Information Technology (MoCIT) have been instrumental in supporting the growth of the country's entrepreneurship culture.
"These agencies and government institutions are all trying to bring in their expertise together in full force and they've been doing a great job in the past so many years. I am closely associated with what QDB is trying to do in terms of tech and angel investments.
"In particular, QSTP and DIC are churning out and trying to focus on startups and building them up. There are some promising startups that are coming up in the future and they have great ideas," Dr Singh said.
Dr Singh also emphasised that "there is more work to be done," but noted that he remains optimistic in the further development of Qatar's startup ecosystem.
"There is still more that is always required; more work is still needed. But we don't have to worry about it because everything takes time. This is part of the evolution of the startup industry," he added.
"Any startup industry in every part of the world takes time; it is trying to cultivate a new vertical and a new space. Everything takes its time to develop, so we have seen a lot of progress in the last three years – from just being startups to a whole ecosystem awareness now in Qatar – and a lot of people are involved in it," he pointed out.
According to Dr Singh, there have been a lot of discussions happening, forums, panel discussions, and a lot of content building, as well as many people joining hands to meet with startups to help them evaluate their companies and investments, among other forms of assistance.
"All of that is shaping up but we need to give it some time, and I think we should be in the list of some of the top startup ecosystems in the region," said Dr Singh, who further explained that Startup Grind has many plans in the pipeline to help startups grow their businesses and identify avenues that provide access to funding.
On January 31, Startup Grind Doha will be hosting a 6pm virtual session, which carries the theme 'Deep Dive into Angel Investing'. The panel discussion, which will be moderated by Business Startup Qatar founder Steve Mackie, is comprised of subject matter experts like Angel.qa co-founder Munera al-Dosari, Doha Tech Angels CEO Sara Daniel, and Dr Singh, who is also the founder and chairman of 360 Nautica.
"We just had one masterclass done by QDB, along with the Qatar FinTech Hub (QFTH). When more people understand it, angel investment makes a lot of sense for us to bring in more subject matter experts from the industry who will talk about the angel investment landscape.
"I think this is one of the prime things that QDB is driving at, and we want to contribute as much as we can in terms of thought leadership and, of course, driving angel investment and angel investors, as well," stressed Dr Singh, who added that Startup Grind Doha will also tackle other topics in the future, such as fintech, sportstech, other verticals of investments, including e-commerce and digital evolution, as well as the digital ecosystem.