Geekdom, Qatar's Largest Pop-Culture Event, to be Part of the Doha Film Experience from Dec. 3 to 16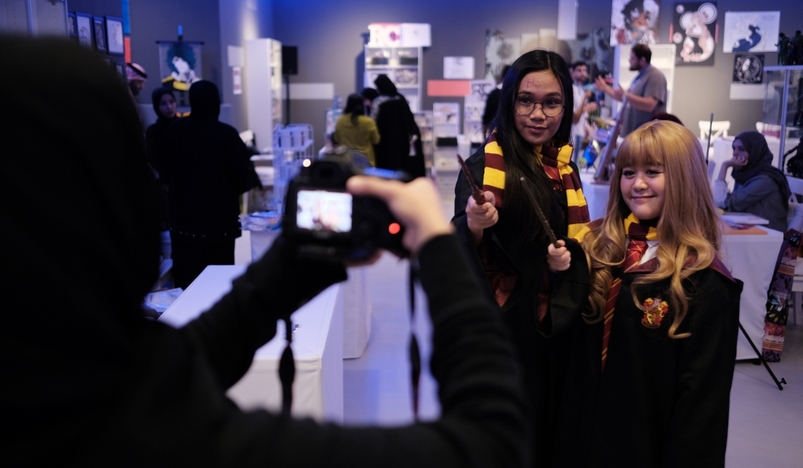 Geekdom Qatars Largest Pop Culture
Doha Film Institute brings Qatar's largest pop culture event, Geekdom, to the Doha Film Experience from December 3 to 16 at the Lusail Boulevard, Geekdom Building. Set to bring out the inner geek in everyone, Geekdom has moved its celebration of all things nerdy to Lusail Boulevard with daily passes available on a first-come-first-served basis for 10 QAR.
Providing a platform for all geeks to share their passion for pop culture, and for every visitor to experience events that engage and inspire, Geekdom will feature a day to celebrate cosplay, nerve-wracking video game tournaments, screenings of celebrated films, fun karaoke nights, and an electrifying concert for Ajyal Tunes Geekdom Night.
Visitors will discover a rare collection of pop-culture memorabilia curated by Qatar-based collectors at the Geekdom Gallery and an artists and vendors alley will showcase local and regional artists' work for passionate collectors. The Geekdom Lounge houses the most popular board games, card games, manga reading sessions and an ongoing calendar of video games and tournaments.
In addition to FIFA 23 | Overwatch 2, video game tournaments that will bring together the best of best in video gaming include the Super Smash Bros. Ultimate - Doubles | League of Legends; Guilty Gear Strive | Valorant; Street Fighter V | Valorant; Tekken 7; King of Fighters XV; and the Super Smash Bros. Ultimate Singles, among others. There will also be, debates, anime music videos, cosplay competitions for kids, and several workshops.
Geekdom screenings commence on Dec. 3 with Lilo & Stitch (USA/2002) directed by Dean DeBlois and Chris Sanders. Other films on the Geekdom screening showcase are: Only Yesterday (Japan/2022) by Isao Takahata; Hercules (USA/1997) by Ron Clements and John Musker; Spirited Away (Japan/2005) by Hayao Miyazaki; The Secret World of Arrietty (Japan/2010) by Hiromasa Yonebayashi; Lupin III The First (Japan/2020) by Takashi Yamazaki; Guardians of the Galaxy (USA/2014) by James Gunn; Star Wars: Episode IV – A New Hope (USA/1977) by George Lucas; Mulan (USA/1998) by Barry Cook and Tony Bancroft; Mulan II (USA/2004) by Darrell Rooney; Batman Returns (USA/1992) by Tim Burton; The Dark Knight Rises (USA/2012) by Christopher Nolan; and Weathering with You (Japan/2019) by Makoto Shinkai.
Excitement awaits visitors with this year's Geekdom Talks diverse topics which include How to create your OC, Creating Anime Content: How to go viral on social media, The opportunity of Gaming and eSports and ways to move forward, Cosplaying 101 and much more.
A selection of short films all from Qatar will also be screened as part of the Geekdom Shorts Programme on Dec. 11. These include: Qarar (Qatar/2014) and I (Qatar/2012) both by Ali Al Anssari; Ruqya (Qatar/2010) by Fahad Al-Kuwari; and Topaz Duo: Cosmic Phoenix (Qatar/2012) by Ben Robinson. 
The Ajyal Tunes Geekdom Night will be on Dec. 16, with several talented Qatar based musicians on stage at Qatar Foundation's Oxygen Park for the grand closing ceremony.
Geekdom has established itself as a cross-generational, communal interactive creative space for people of all ages that supports the development of a diverse range of content creators. The success of Geekdom has sparked the growth of a pop culture industry in Qatar, with the opening of new animation studios and pop-culture focused stores such as Cortex PC, Tawar Games, The Geek Majlis, Qatar Boardgames Community and the Qatar Gaming Community.
Taking place over four action-packed weeks, the Doha Film Experience is being held across several key venues in the country including M7's Sky Theatre, Qatar Foundation's Al Khater House, the Museum of Islamic Art Auditorium, Heenat Salma Farm, Sikkat Wadi Msheireb, Vox Cinemas Doha Festival City and the Lusail Boulevard. For more information and to book your tickets now, visit www.dohafilminstitute.com.