Formula One Marks 2022 World Cup Countdown in Qatar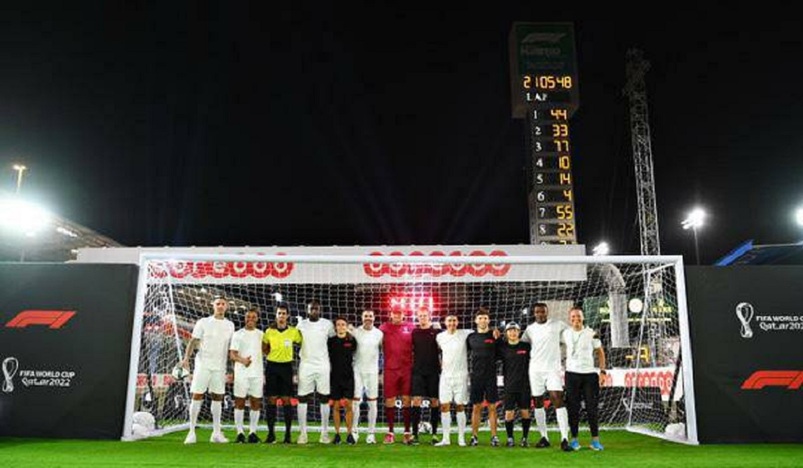 FIFA Qatar 2022 World Cup Countdown
As the 2022 FIFA World Cup in Qatar counts down, Formula One and Qatar 2022 on Saturday night partnered to compete in a penalty shootout, a temporary pitch was installed on the starting grid at the Losail Circuit Sports Club (LCSC) where football legends and F1 drivers formed two teams of 6 players each.
Team 1 consisted of Marcel Dasailly, the French World Cup winner in 1998, leading Pierre Gasly (Alpha Tauri), Juan Pablo Angel (Columbian football player), Ivory Coast international Yaya Toure, Carlos Sainz (Ferrari) and Nick de Vries (Mercedes reserve).
Team 2 consisted of 1994 and 2002 World Cup winner Cafu of Brazil, Valterri Bottas (Mercedes), Yuki Tsunoda (Alpha Tauri), Daniil Kyviat (Alpine reserve), Italian football star Marco Materazzi and former Aussie soccer player Tim Cahill.
Former F1 driver and TV presenter David Coulthard was the presenter with commentator Rosanna Tennant.
Victorious captain Desailly said after the shootout that the Sports has the power to change the world so it was good to entertain everyone here.
Source: Qatar News Agency