First group of FIFA World Cup guests arrive in Qatar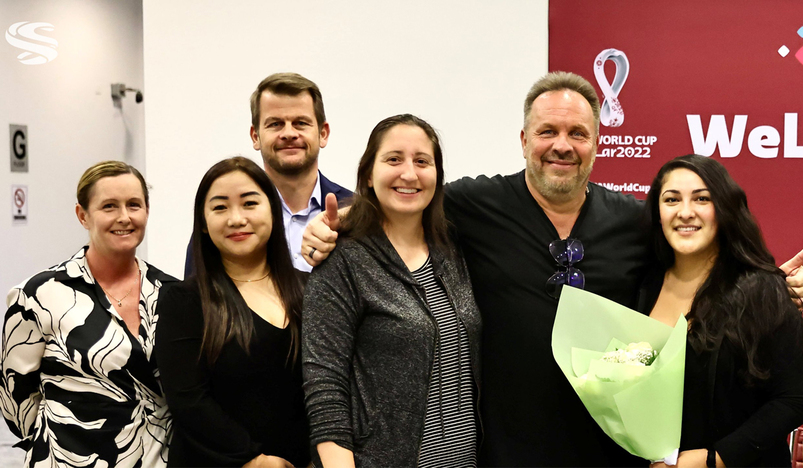 FIFA World Cup guests
The first group of fans have arrived in Qatar with just over two months till the start of the FIFA World Cup 2022, the Supreme Committee for Delivery and Legacy announced on Monday.
"The first group of @FIFAWorldCup guests have checked in! Ticket holders must book accommodation and apply for a mandatory Hayya Card," the Supreme Committee tweeted with a series of photos showing exuberant guests being welcomed into Qatar.
From November 20 to December 18, Qatar will host the first-ever FIFA World Cup in the Arab world. With the shortest distance between stadiums being only 75 kilometers, it will be the tournament's most condensed edition in modern times.
Nasser Al Khater, CEO of FIFA World Cup Qatar 2022 LLC, said, "Thanks to the compact nature of this tournament, fans will never be far from a stadium or activation."
The Supreme Committee for Delivery & Legacy has announced that ticket holders for the FIFA World Cup 2022 are allowed to bring up to three non-ticketed fans to Qatar (SC).
A Hayya Card, a fan ID given to World Cup ticket holders to allow them access to the stadium and other facilities, is also necessary to enter the country beginning in November in accordance with current regulations. An SC booklet stated that the invitees could receive this card for a price of QR500 and that minors under the age of 12 would not be charged.
The Qatar-Saudi border at Abu Samra is where football fans from Saudi Arabia who are traveling to attend FIFA World Cup games in Qatar will have to park their cars.
Tournament organisers will operate a park and ride facility at Abu Samra, the Supreme Committee said, adding that fans should note that vehicles will only be allowed to enter Qatar under exceptional circumstances. A pre-booking system for parking at the border will be available from October 15, it added.
The Supreme Committee said a GCC air shuttle service will operate 94 rotations per day during the tournament. Shuttle service flights will land at Doha International Airport. Hamad International Airport will cater for flights arriving from outside the GCC region.