First Come First Served FIFA Qatar World Cup Tickets Sales Period to Begin on July 5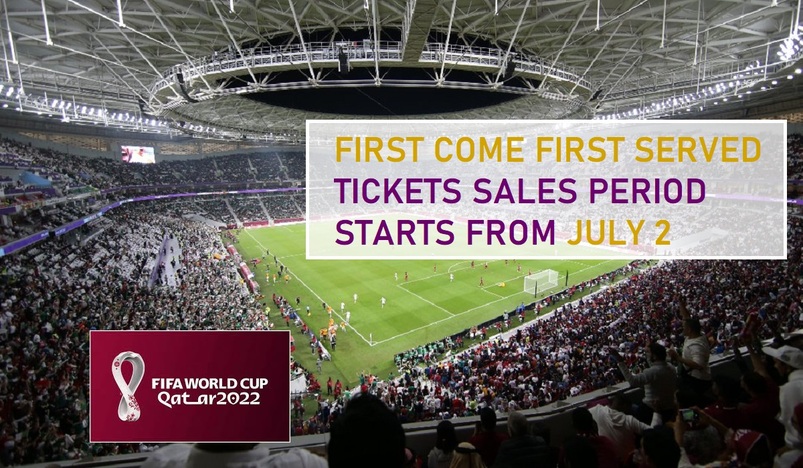 How to Apply for FIFA World Cup Qatar 2022 Tickets through First Come First Served Sales Period in Phase 2
The official website of FIFA has announced that payments of allocated tickets during the second Random Selection Draw sales period of tickets to the FIFA World Cup Qatar 2022™ that finished on 28 April 2022 are no longer accepted.
As published on the website, fans can apply again for tickets to the FIFA World Cup Qatar 2022™, happening from November 21 - December 18, 2022, through the First Come First Served sales period of Sales Phase (2) that starts on 5 July 2022 at 11:00 CEST / 12:00 (midday) Doha time and ends on 16 August 2022 at 11:00 CEST / 12:00 (midday) Doha time.
During the said sales period, tickets will be allocated on a first come, first served basis, and ticket purchases are processed as a real-time transaction, subject to availability. All successfully purchased tickets will be confirmed immediately to the ticket applicants.
FIFA advises football fans to place their application as soon as the sales period opens, as tickets will likely sell out quickly.
Once fans have paid for their tickets, they will be able to browse accommodation and apply for their Hayya Card, which doubles as an entry permit for international fans travelling to Qatar for the tournament. 
All spectators, regardless of whether they are based in Qatar or abroad, will need a Hayya Card along with a match ticket to enter the stadiums.
To explore accommodation options and read more about the Hayya Card, visit Qatar2022.qa
To apply for tickets and know more about the ticket sales, click this link.
Source: FIFA.com