Filipino expat wins Dh10 million in Mahzooz draw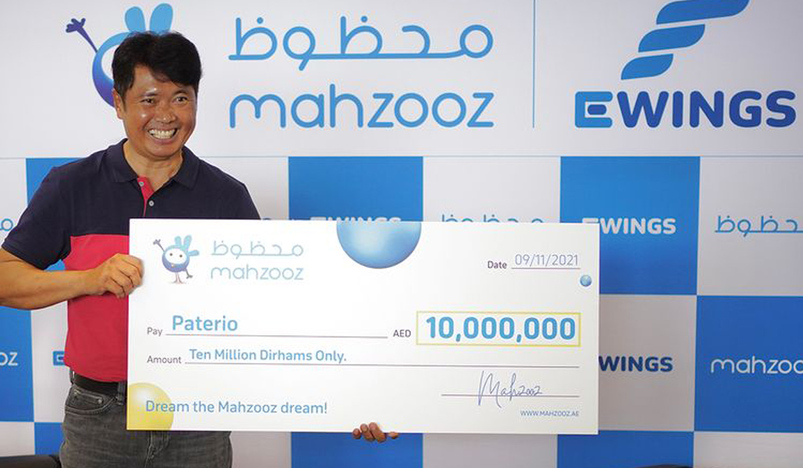 Filipino expat Paterio
A 52-year-old Filipino has won a whopping Dh10 million at Dubai's Mahzooz draw. It was a dream come true for Fujairah resident Paterio, who works at an oil and gas firm, as he scooped the Dh10 million top tier prize at the draw after matching five out of the five winning numbers, which were 4, 26, 36, 37, and 38.
Paterio, who is Mahzooz's 19th millionaire, also has the distinction of being the first top prize winner of Mahzooz's new game design which was introduced two weeks ago.
The father of two, who has been living in Fujairah for three years, has not been able to see his family for over a year due to Covid-19 restrictions.
His sons are 23 and an 18 year old, who is also a person of determination, and stay in his home country Philippines with their mother.
Paterio said the entirety of his prize money will be dedicated to giving his family all the possible comforts imaginable. "I wouldn't have been able to save such a huge amount even if I had worked for a hundred years," says the material contract supervisor who has spent 13 years working in the construction industry, away from his family.
The prize money, Paterio told Khaleej Times, came to him at a much-needed time as his 18-year-old son, who has been suffering from cerebral palsy from childhood, needed som crucial procedures.
" I am 52 years old and this money will help me retire without much worry. I will partially use it to invest in some business and some I will use to fund my elser son's dentistry course, while rest will be used to get my 18 year old son's treatment. This money will definitely help me take care of his medical expenses and give him the best at-home hospice care possible. I will remain forever grateful to Mahzooz for this.
A big house followed by real estate investments are next on Paterio's wish list. "A family house has been my wife's greatest dream for years, and now it's time to finally grant her that wish," he said.
The self-confessed motorhead plans to buy a Ford Raptor, not as a treat for himself, he clarifies, but another prudent investment: "The pickup truck is for a business my wife and I plan to invest the prize money in. I'm a normal guy who enjoys a simple, low-profile life. The fact that this money allows me to offer my family a beautiful future is the greatest gift of all for me," Paterio explains.
'I was at work when I was told I won Dh10 million'
The Fujairah resident, whose work shift begins at 5.30am, said he was at work when he received the life-changing phone call from the Mahzooz team. " It was 8am and I was out on my site for work when I got the call from the Mahzooz team who told me about the win. I couldn't believe initially and thought someone was pranking me but when the caller explained to him about the prize money, the reality hit me. I then checked my email and realised it was true," said an excited Paterio.
Paterio said he started participating in the live lucky draw from January 2021 when his friends introduced him to the weekly draw.
" I started by participating in this draw with a group of my colleagues who would jointly buy a few online entries into the draw. Apart from the prize money, what frew me to Mahzooz was the charity aspect of it as I knew that even if I don't win, the money I have used to buy that bottle of water to enter the contest wil be used for a good cause. That was my real motivation to regularly participate in the weekly Mahzooz draw, he said, adding that one of his colleagues at the company had won Dh1 million at Mahzooz sometime back which inspired Paterio to keep trying.
What's got Paterio revved up with excitement for his imminent reunion with his family. "I've spent the last decade toiling away alone in Madagascar, Saudi Arabia and the UAE, just to ensure my family is comfortable. It's time for me to be with them and help care for my child."
Paterio urges everyone to try their luck with Mahzooz: "A platform like Mahzooz gives people an additional shot at making big money to fulfil their dreams. Keep participating in Mahzooz; fortune favours those who are patient."
The 50th weekly live Mahzooz grand draw also saw 16 winners share the second prize of Dh1 million and 884 winners bag the third prize of Dh350 each. Additionally, three winners took home Dh100,000 each in the raffle draw which features three guaranteed winners every week. The total prize money won in the 50th draw was Dh11,309,400
How to participate in the draw
Mahzooz, the weekly live draw, from October 30 introduced a new game design to increase participants' odds of winning. It's weekly live draw now offers Dh10 million grand draw and Dh300,000 raffle draw.
The new grand draw requires participants to select only five out of 49 numbers for a chance to win the top prize of Dh10 million. Moreover, all participants will be automatically entered into the brand-new weekly raffle draw of Dh300,000 where three guaranteed winners will take home Dh100,000 each.
Everyone who enters the draw and purchases a bottle of water for Dh35 will now be eligible to win prizes both in the grand draw and the raffle draw.
Besides the restructuring, Mahzooz has also launched its highly anticipated mobile app on Google Play Store and iOS App Store.
Additionally, customers can now also participate in the Mahzooz weekly draw using cash through over 380 kiosks around the UAE.