Where to buy FIFA World Cup Official Licensed Products?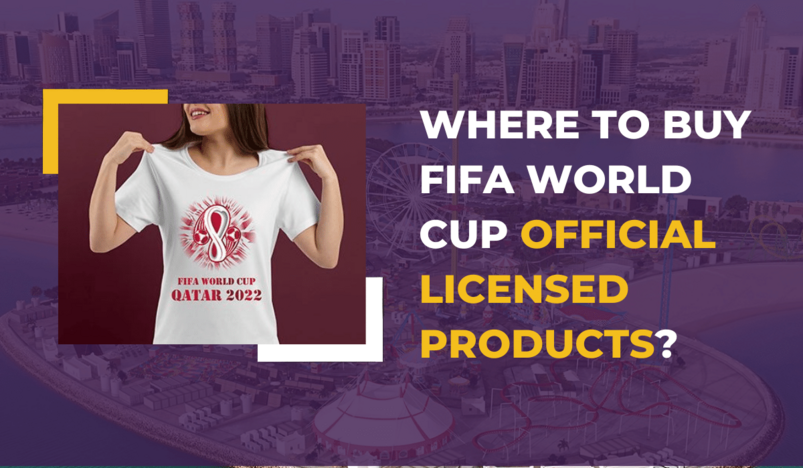 Where to buy FIFA World Cup Official Licensed Products?
On 2 December 2010, FIFA confirmed that Qatar will be hosting the FIFA World Cup 2022. For the first time in the tournament's 92-year history, the world's most popular sporting event will be held in the Middle East. In the final round of the draw, Qatar won the privilege to host the World Cup over Australia, Japan, South Korea, and the United States of America. It is considered one of the most important tournaments in the world, as it is held every four years, where 32 teams compete for the cup.
Teams compete for the event through continental qualifications, and the competition is a great opportunity that encourages football fans, young and old, men and women of different races, nationalities, and religions, to encourage and support their country's team and to show a sense of belonging and patriotism. The team is supported either remotely through cheerleading from the country itself or by crawling and coming to the host country and supporting the team from the field which is the most interesting and wonderful way where you get to know people from different countries and see different cultures, different people, different religions and get to know the culture and the civilization of the host country and its people.
Best FIFA World Cup official licensed stores
There are many companies and brands that have been licensed to sell the World Cup 2022 products from FIFA and are working hard to spread their products all over Qatar so that all fans, organizers, and parties interested in the World Cup can buy the official products. Among these companies:
Al Meera
Al Meera is one of Qatar's major firms, with a presence in every area, catering to clients' everyday requirements. Al Meera shops are larger, newer, and more convenient to shop at than the rest of the stores, with the best quality and service standards. On their shelves, they have the latest products, both local and foreign, as well as everyday essentials at a fantastic price. Al Meera is a consumer goods company, through its subsidiaries, has provided officially licensed items for the FIFA World Cup Qatar 2022, with the aim of providing customers with easy access to the products required for this year.
Officially licensed products for the FIFA World Cup Qatar 2022TM are now available exclusively at Al Meera which includes clothing, fashion accessories, non-professional soccer balls, household items, gifts and novelties, stationery, and back-to-school items, all of which are manufactured by Qatari licensed manufacturers.
Merchandise will be sold from specialized kiosks and racks that reflect the style and feel of the tournament. Al Meera is the first store in Qatar to offer officially licensed items for the FIFA World Cup 2022 in most of its locations, ensuring equipment is available in most communities across the country. Customers can reach Al Meera easily, as it is now one of the largest companies in Qatar. Its branches are available in almost all regions of the country. Customers can also order products online at www.almeera.online, where they can receive their order on the same day.
Al Majed Jewellery
Al Majed Jewellery is one of the top jewelry stores in Qatar since it has special pieces from some of Europe's most renowned designers, and it is a magnet for all jewelry connoisseurs in the country.
Limited edition collections portraying Qatar's legacy and culture, which consumers can experience, share, and collect to summon it all, will be manufactured, designed, and sold by Al Majed Jewelry with operations to promote Qatar as the host nation for the FIFA World Cup 2022. The happy and pleasant recollections linked with a once-in-a-lifetime opportunity are a chance that you should not miss. 
Al Majed Jewellery will offer fine jewelry sets, pens, and gemstones through a variety of distribution channels, including mid-sized stores, luxury lifestyle outlets, duty-free outlets, hotel dealers, e-commerce specialists, and point-of-sale. 
Sports Corner
Sports Corner is one of the most important and largest companies licensed to sell World Cup products. It is a large and well-known company in Qatar, and its branches are spread all over the country from north to south, and its branches are also available inside and outside malls or in commercial markets. They offer many products for use by children, young adults, the elderly, men, and women. They sell T-shirts, jackets, blouses, shorts, socks, hats, bags, soccer balls, and many more, all in different shapes and sizes and bearing the FIFA World Cup 2022 logo. The beauty of this company is that its prices are reasonable. Therefore, everyone can go to the Sports Corner branches, but I advise those who have children to go to Al Markhiya or Tawar Mall branch to be able to put their children in Rocket Tower - Ezdan Gharafa and shop comfortably, as the branch is very close to Ezdan Mall.
If this article was useful to you, it surely will be useful to others as well. Share it with your friends and family and plan a trip to the nearest store to buy FIFA World Cup 2022 merch.