Expo 2023 Doha: Expo School Connects Creativity, Technology to Enhance Environmental Awareness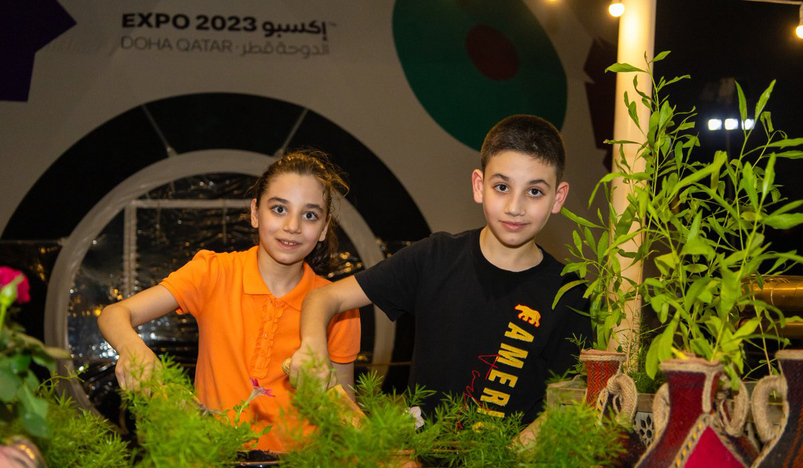 Expo 2023 Doha
Expo School at Expo 2023 Doha has held several educational and entertainment workshops for children that connect creativity and technology to enhance environmental awareness.
The Expo School, located in the family area of the exhibition, is a unique platform for education through creativity, as it hosts environmental workshops, where students make tools from recycled plastic and decorating them with flowers.
Expo 2023 Doha pays great attention to gardening for children and students, as the events program includes a number of interactive workshops and awareness sessions presented by specialists in various fields of modern agriculture, technology, innovation, environmental awareness and sustainability in a smooth way that contributes to expanding students awareness.
In addition to the workshops, the digital domes, which are equipped with interactive screens, virtual reality technology, and robots, provide an unparalleled educational experience for visitors. Inside the domes, children learn about the world of digital creativity, discover what tomorrow holds and the possibility of using the power of technology to shape their future.
The Expo School is keen to have children participate in various activities, so that the child emerges with a good understanding of his role in building a greener and more developed world, loaded with the values of innovation, inspiration, growth, cooperation and diversity, which are the values on which Expo 2023 is based.
The organizing committee of the Expo 2023 Doha is keen to organize a program of visits to schools with the aim of introducing and raising awareness of the themes and objectives of the exhibition, inspiring students and expanding their knowledge horizons in the fields of science, arts, technology and sustainability.
(QNA)