Enhance your Lifestyle with Galaxy Foldables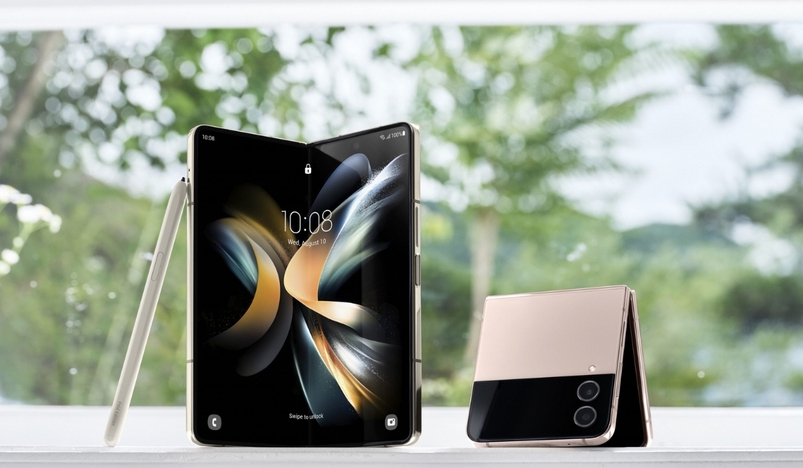 Samsung Galaxy Foldables
It's been said foldables bring back a nostalgic touch to them, but more than that, they can enhance lifestyles as they become packed with next-generation capabilities. The new Galaxy Z Flip4 and Galaxy Z Fold4 build on the success of Samsung's iconic form factor, adding key features, including an upgraded camera experience, a larger battery and expanded customization, while enhancing users' favorite features, making the new series the ultimate tool for self-expression. More than that, Samsung has enhanced its color palette, making the Galaxy Z Flip4 available in Bora Purple, Graphite, Pink Gold and Blue whilst showcasing Graygreen, Beige and Phantom Black to the Galaxy Z Fold4 portfolio offerings.
Galaxy Z Flip4
Its compact clamshell design offers unique experiences not available on any other smartphone. Users can shoot hands-free videos or capture full group selfies at various angles by partially folding the Galaxy Z Flip4 to activate FlexCam. These can even be enjoyed on users' favorite apps. Thanks to Samsung's partnership with Meta, FlexCam is optimized for the most popular social platforms, including Instagram, WhatsApp and Facebook. With Super-Fast Charging, now supported on Galaxy Z Flip4, it can charge up to 50 percent in around 30 minutes, keeping users connected when they're running low.
Galaxy Z Fold4
The Galaxy Z Fold4 is the first device to ship with Android 12L, a special version of Android created by Google for large-screen experiences, including foldables. Multitasking is also more intuitive, thanks to new swipe gestures. Users' multitasking experience is complete with S Pen functionality, enabling on-the-go drawing and notetaking with streamlined storage inside the Standing Cover with Pen case. Galaxy Z Fold4 takes stunning photos and videos with an upgraded 50MP wide lens and 30x Space Zoom lens. And with the larger pixel size, a 23 percent brighter sensor, and enhanced processing power, users can capture clear images even at night while never worrying about spills as Galaxy Z Fold4 is also equipped with IPX8 water resistance.
Customers can enjoy key benefits upon purchasing the new Galaxy Z Series. Samsung's latest offer allows Galaxy Z Flip4 customers to avail of a Galaxy Watch4 44mm, a two-year Samsung Care+ in addition to a complimentary TOD subscription upon getting the new device. Those opting for the Galaxy Z Fold4 will get twice the storage (256GB to 512GB), a two-year Samsung Care+, and a complimentary TOD Subscription to enjoy the thrills of the upcoming football season.
For more information, please visit Samsung.com