Where to find Eid al Adha 2022 decorations in Qatar?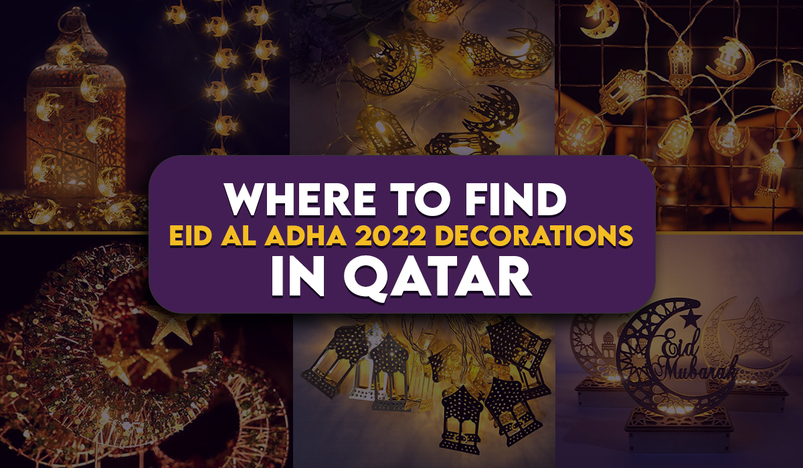 Best places to find Eid decorations in Qatar
Eid al-Adha is celebrated every year by Muslims all over the world. People wear traditional outfits and decorate their house to feel the festivities vibe with their families and friends. Some of the things you might need to decorate your house are wall hangings, cushions, carpets, cutlery/ crockery, and lights. For your convenience, we have mentioned all the places where you can find these items easily in Qatar before your next Eid, which is right around the corner. 
1. Al Rawnaq Trading Center
Al Rawnaq Trading Center is one of the oldest and most popular stores to buy stationery, household, home decor, and much more at the best quality and cheapest prices. It is the go-to place for people from all communities as you can get everything you want for your art project under one roof. You can either buy goods in small quantities or in bulk for EId giveaways for your friends and family. Waste no more time and visit one of the branches to buy your latest Eid decor products for your next Eid. 
Location: Old Airport branch, Doha. Bin Omran branch - Behind KFC, Bin Omran. Q Mall branch -  Doha Expressway, Shamal Road, Al Gharafa.
Contact: 40293754
Website

2. Al Shaheen
Al Shaheen is an ideal store for unique, small, or big home decors, cutleries, or anything you might need for your household. They have many special pieces which are beautifully crafted wall hangings, lanterns and lamps, and much more. All their products are offered at a very reasonable price. Visit their store now and be dazzled with their spectacular range of Eid decorations. 
Location: Old Airport Road, Bin Omran - Opposite Al Ahli Hospital, Ahmed Bin Ali Road.
Contact: 4418 1924
 
3. Souq Waqif 
If you are looking for something traditional handicrafts and authentic Arabian-style home decor, Souq Waqif is the place for you. Starting from creatively crafted carpets, cushions, and various other handicrafts to glittering lights, oud, bukhoor, chocolates, spices and so much more is available at the Souq, basically everything you need to prepare yourself for the upcoming Eid.
Location: Souq Waqif, Doha
Contact: 44062555
 
4. IKEA
IKEA is the ultimate place for everyone to shop for their furniture or home decor items as it is an international brand and everything is available under one roof. If you want to buy new furniture for your new home or think of redecorating your house this Eid, this is the first place that'll come to your mind. This Eid al-Adha 2022, spend quality time shopping with your family and friends for all sorts of creative decorations and furniture at IKEA.
Location: Next to Doha Festival City
Contact: 44062555
Website
5. Home centre
Products ranging from kitchen essentials to beddings or wall hangings or lamps, you name what you need for your home, you will get it right here. They have attractive offers and a unique collection of décor that can help in getting your home ready for Eid. It is available in many locations and easy to get there too. 
Location: Al Asmakh Mall, City Center, Gulf Mall, Doha Festival City, Near HBK Tower, Jaidah Flyover
Contact: 74481020, 44839400
Website
6. Dollar Plus
Dollar Plus is a store with cute and fun items to decorate your house. They also have many things that make your life easier that you could never think you needed until you buy and use them. They have a variety of products available at an affordable price range. Definitely, the best place to shop for Eid al-Adha decorations since you would want to think of new creative ideas every year. 
Location: City Center Mall, Gulf Mall, Ezdan Mall(Al Wakra), Dar Al Salam Mall.
Contact: 7478 5161
7. The One
The One is for people who want to decorate their house with elegant and aesthetic stuff, making their home a unique place to live and giving them a personalized homely vibe as it will represent their personality. The One is situated at various malls. 
Locations: Mall of Qatar, Doha Festival City, Villaggio, Mirqab Mall
Contact: 44888669
Website

Hope you found this article useful while making your choice of where to go and find decorations for Eid in 2022.