Egyptian passenger caught with 73 snakes in luggage at Cairo Airport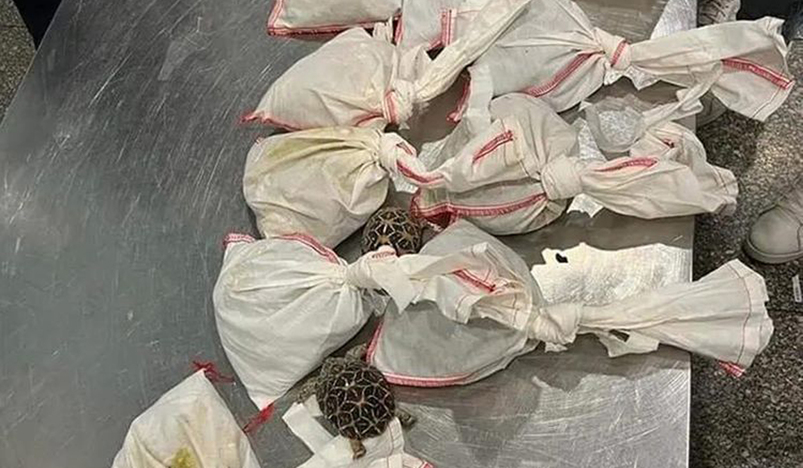 The bags with reptiles seized at Cairo airport.
An Egyptian man was arrested after he got caught smuggling 73 snakes into Cairo International Airport.
Egypt Independent reported that an airport customs employee discovered snakes after he felt warm objects inside the passenger's bag.
Authorities calmed down the customs employee and ensured a snake did not bite him.
The suspect, who arrived from Muscat, Oman, attempted to evade customs employees to smuggle the snakes, but he was eventually caught.
After further inspection, Egyptian authorities found 73 snakes, of which 48 were alive and 25 dead inside 11 cloth bags concealed in the passenger's luggage. They also found two turtles inside the suspect's luggage.
Meanwhile, a Ukrainian woman arrested for smuggling 116 live tortoises into Thailand has been extradited by Interpol to Tanzania for prosecution Thursday.
According to Interpol, the suspect was first arrested in 2022 when customs authorities at the Suvarnabhumi International Airport in Thailand discovered tortoises concealed in her luggage.
The Ukrainian woman managed to flee Thailand before she could be fully prosecuted, but Interpol tracked and arrested her in Bulgaria on June 17.
International authorities established that the fugitive was a prominent member of a large wildlife smuggling transnational network and collaborating with Egyptian and Tanzanian partners to smuggle wild animals.
Interpol said the suspect is facing a maximum prison sentence of 30 years for violating the Wildlife Conservation Act and Economic Organized Crime Control Act.
The arrest of the Ukrainian suspect occurred during Interpol's Operation Golden Strike last year, which aims to tackle wildlife trafficking.
Interpol said the massive operation resulted in the seizing of a significant number of wildlife animals, more than 300 arrests, and the dismantling of smuggling networks between Asia and Africa.
Law enforcement and wildlife authorities in 28 countries participated in Operation Golden Strike and were funded by the Chinese government.
In 2022, the Wildlife Justice Commission (WJC) expressed concern over the rising cases of wildlife poaching and trafficking worldwide as international borders began to open following three years of the COVID-19 pandemic.
The organization boasted its success in going after wildlife smugglers in Nigeria after 14 suspects were arrested in three separate operations, including three Vietnamese nationals who were high-ranking members of a major organized crime network involved in smuggling ivory, pangolin scales, rhino horn and lion bones.
In Thailand, WJC and the Royal Thai Police Natural Resources and Environmental Crime Suppression Division arrested three men allegedly trafficking big cats in the Greater Mekong Region.
The authorities found a 3-month-old tiger cub in a box in one of the suspects' cars. WJC said the cub, named "Nong Kwan," is now being cared for at Thailand's Bueng Chawak Wildlife Sanctuary.