EcoTransit reveals its first electric vehicle that includes Qatari intellectual property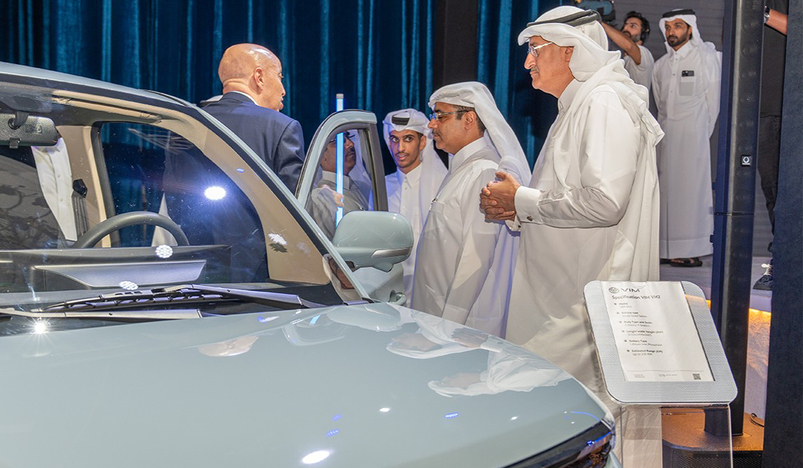 Electric vehicle
EcoTransit revealed its first electric vehicle that includes exclusive Qatari intellectual property. This entry of the company into the field of environmentally friendly transportation solutions is considered a pivotal move in the Qatari and GCC public, private and commercial transport sector.
EcoTransit offers the newest technologies and designs, and its cars and buses offers a wide range of environmental sustainability, energy efficiency and aesthetic design.
This was revealed during a ceremony held by the Ministry of Transport and in the presence of HE Minister of Transport Jassim bin Saif Al Sulaiti, HE Minister of Environment and Climate Change Sheikh Dr. Faleh bin Nasser bin Ahmed bin Ali Al-Thani, HE Minister of State and Chairman of the Board of Directors of Qatar Free Zones Authority Ahmad bin Mohammed Al Sayed, HE Chairman of the Board of Directors of Qatar Chamber Sheikh Khalifa bin Jassim, HE Chairman of the Qatar General Electricity and Water Corporation (Kahramaa) Eng. Issa bin Hilal Al Kuwari, HE Chairman of the Public Works Authority (Ashghal) Dr. Eng. Saad bin Ahmed Al Muhannadi and a number of Their Excellencies Sheikhs and representatives of government agencies, car agencies and other related entities.
This move comes along with Qatar's National Vision 2030 and Qatar's national strategy, as the country aims to drastically change the transportation sector in hopes of making it greener and more sustainable, which also coincides with the global direction aimed at reducing harmful carbon emissions caused by conventional vehicles that contribute to a very high percentage of environmental pollution.
During the ceremony, EcoTransit showcased the first prototypes of its electric cars, carrying the VIM brand. It's a major step and a reflection of Qatar's commitment to reducing harmful carbon emissions and crowns the company's efforts that aim to promote national innovation, supporting human cadres and develop local talents in preparation of growing this type of industries in Qatar in the near future.
EcoTransit is the first company in the field of electric vehicles and comprehensive sustainable transport solutions and infrastructure. It has investments with global partners to own intellectual properties for a number of cars and buses. It has also began investing in assembly plants and preliminary production lines, with the hope of expanding into a fully integrated industry in the near future.
The company aims to invest in developing the first center for the certifying electric cars in Qatar in cooperation with the concerned authorities in the country, in order to ensure that electric cars and buses meet the international and GCC standards, and to be able to issue accreditation certificates.
EcoTransit has also invested in the infrastructure of electric vehicles and its technological systems to provide comprehensive solutions for the electric transport system. The company is currently manufacturing buses in different sizes, assembling electric cars as well as supplying, installing and operating electric chargers and providing related technological solutions.
(QNA)