Last Chance to Participate in Ooredoo Doha Marathon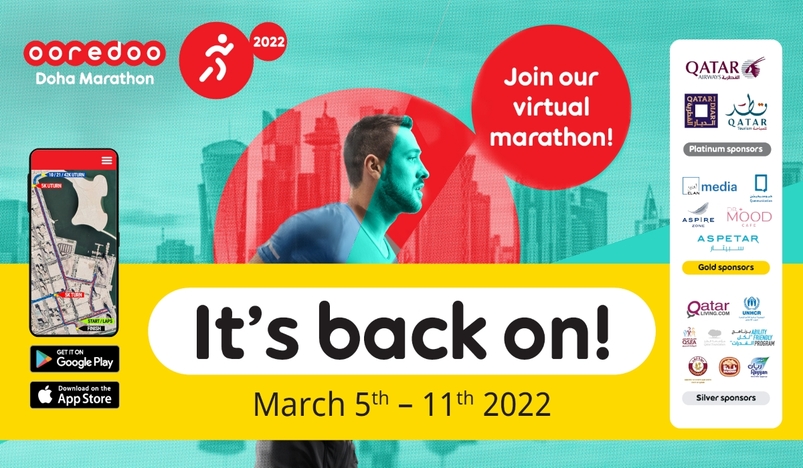 The Doha Marathon is a great chance for all runners to take part in one of the most popular sporting events of the year.
Registration has opened for the Ooredoo Doha Marathon. People of all ages are welcome to take part. There are various distances based on the age and ability of the participants.
Ages and Distance
The target for juniors between the ages of 13-17 is 5 km, while adults over 18 have targets of 5, 10, 21 and 42 km.
A 42-kilometer and a 21-kilometer race will start at 6:30am, the 10-kilometer and the 5-kilometer courses at 7:15am and 8:00 am, respectively. 
The cut-off time for all categories to complete the races is 11am.
How to Get Around
From the Doha Golf Club, located in West Bay, race participants will be shuttled to the race site, next to a residential area.
The roads around the venue will be opened by 11:00 AM on Saturday. 
Restrictions 
As a result of COVID-19 restrictions, attendance at the event will be limited and all health and safety guidelines will be applied by organizers.
Registration
The Ooredoo Doha Marathon Village in Lusail City will be open from 4pm-10pm from 8-10 March, where participants can register online and pick up their race packs.
Participants must have a valid vaccination certificate.
Participants can register in person and also virtually. The Suffix tracker app allows runners to register and run the virtual marathon individually, posting results on the leaderboard.
The app is available on both Google Play and the App Store.
About Ooreedoo Doha Marathon 
In addition to bringing people together, the Ooredoo Doha Marathon encourages people to live healthier lifestyles. 
All proceeds from the Marathon will go to the Qatar Foundation's Ability Friendly Programme, and all participating categories will receive prizes, with Al-Aldaam prizes available to Qatari entrants.