Doha and India Welcome Students Who Escaped the Ukrainian War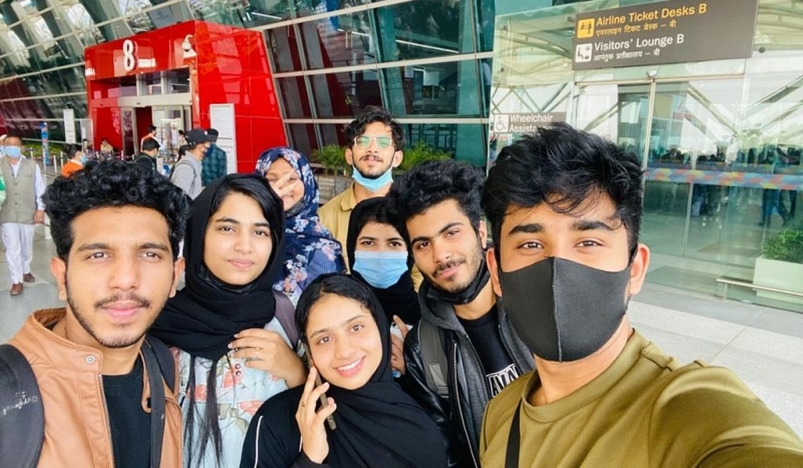 Students are all smiles at the airport after their arrival in New Delhi
Hamad International Airport and New Delhi's Indira Gandhi International Airport finally welcomed two batches of Indian students from war-torn Ukraine earlier yesterday after a harrowing experience that lasted more than 10 days. 
In an effort to reach Budapest, these students from Kharkiv university spent nearly a week in transit from Kharkiv through Lviv, a border city in western Ukraine, where they took a crowded train for a 20 hours trip and a bus for five additional hours to Budapest, Hungary's capital.
After reaching Budapest early on Saturday, the students had to wait another two days before taking off for their respective destinations. Three of the female students took a Pegasus Airlines flight to Doha, while the other students went by AirAsia India to Delhi. 
Despite the bombs falling all around her, Fathima Sharbeen, a first-year medical student at the V.N. Karazin Kharkiv National University in Kharkiv, was able to get home safely after landing in Doha yesterday. 
Following a 20-hour train journey without food or even water from Kharkiv to Lviv, Fathima and the other 300 students had to pay a large fee to cross the border into Hungary. Fortunately, they were able to continue unharmed when they heard the siren as the curfew began.
After entering Hungary, Fathima said, they took the train to Zahoni, where the locals served food and basic items, and only after reaching Budapest did they see members of the Indian embassy.
Concerned parents of Fathima Sharbeen, Hiba Ashraf, and Riya Mirsa Ashiq - all former students of Shantiniketan Indian School Qatar - brought their children directly from Budapest to Doha in order to ease their suffering.
In war-torn Ukraine, many students were forced to leave behind study materials and other belongings in favor of just carrying their identification documents and some extra clothing.
Operation Ganga, India's evacuation mission, has so far brought back 11,000 citizens with the help of countries such as Poland, Romania, Hungary, and Slovakia. The Ministry of External Affairs said 7,000 are still waiting to return to India.