Doha Bank Customers can now use Apple Pay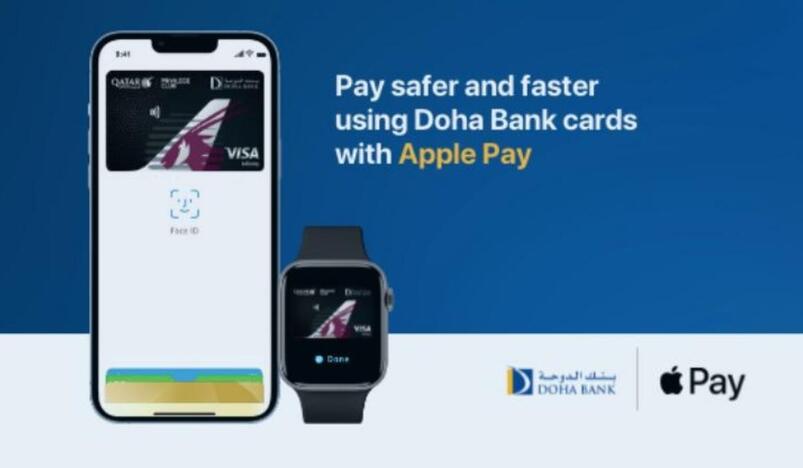 Doha Bank Customers can now use Apple Pay
Doha Bank, one of Qatar's leading commercial banks, announced the introduction of Apple Pay for its clients yesterday, giving them a safer, more secure, and private method to pay using their iPhone and Apple Watch.
Apple Pay protects every transaction by preventing customers from handing over their payment card, tapping physical buttons, or exchanging currency.
To make a contactless payment, customers just hold their iPhone or Apple Watch near a payment terminal. Every Apple Pay transaction is safe since it is verified using Face ID, Touch ID, or the device passcode, as well as a one-time unique dynamic security code. Apple Pay is accepted at a variety of locations, including grocery stores, pharmacies, taxis, restaurants, coffee shops, and retail establishments.
Customers may also use Apple Pay on their iPhone, iPad, and Mac to make faster and more easy purchases in applications or on the web in Safari without having to setup accounts or put in shipping and billing information several times. Apple Pay, among other things, makes it easy to pay for food and grocery deliveries, online shopping, transit, and parking. Apple Pay may now be used to pay for applications on the Apple Watch.
Apple Pay is built on security and privacy. When clients use Apple Pay with a credit or debit card, the actual card numbers are not saved on the device or on Apple servers. Instead, a one-of-a-kind Device Account Number is assigned, encrypted, and securely kept in the Secure Element, an industry-standard, certified chip designed to securely keep payment information on the device.
Apple Pay is simple to use. Simply open the Wallet app on your iPhone, tap +, and follow the steps to add Doha Bank's credit or debit cards. When a consumer connects a card to their iPhone, Apple Watch, iPad, or Mac, they may immediately begin using Apple Pay on that device. Customers will continue to get all of the incentives and privileges that Doha Bank's cards have to offer.