Deadly earthquake kills over 1,300 in Morocco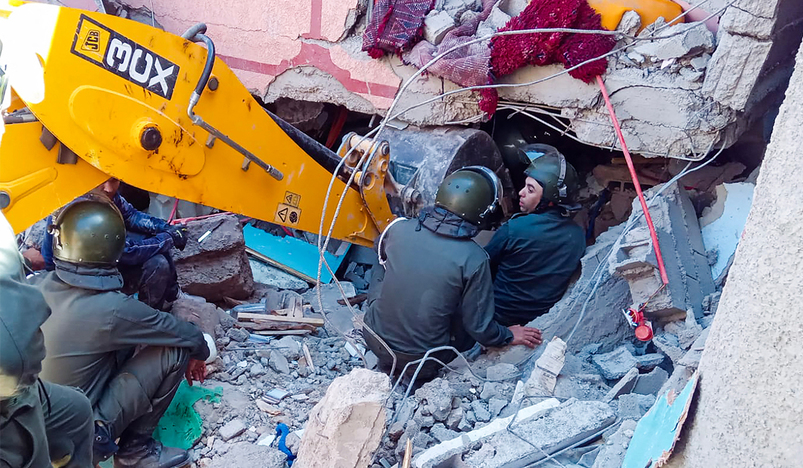 Morocco earthquake
A massive earthquake struck Morocco, killing at least 1,300 people and injuring hundreds of others, with condolences and offers of support pouring in from around the world as rescuers combed the rubble in a desperate search for survivors.
The Interior Ministry said 1,305 people had died and 1,832 were injured in the quake that rattled the North African country. About 1,220 were in a serious condition. In the Moroccan province of Al Haouz, the epicentre of the quake, 542 fatalities have been registered so far.
Teams from the Moroccan army were engaged in the search and rescue operations, according to Morocco's state news agency TAP.
Hospitals in the Moroccan city of Marrakesh called on people to donate blood, while there were still people believed to be trapped beneath the rubble.
Morocco's National Institute of Geophysics said the quake measured 7 on the Richter scale and was the most violent to have hit the country in a century.
Nasser Jabour, director of the institute, said the quake had been felt in several cities within 400 kilometres of the epicentre.
"It is the first time in a century that the institute has recorded a violent earthquake of this kind in Morocco," he said.
Hundreds of aftershocks have been recorded. The quake caused panic among residents in Marrakesh, Agadir and other cities and was also felt in Rabat and Casablanca, local newspaper Le Matin reported.
Moroccan television broadcasts showed buildings reduced to rubble and damage to the famous red walls that surround parts of Marrakesh's historic area.