Concerts of the Future - A Step into the Metaverse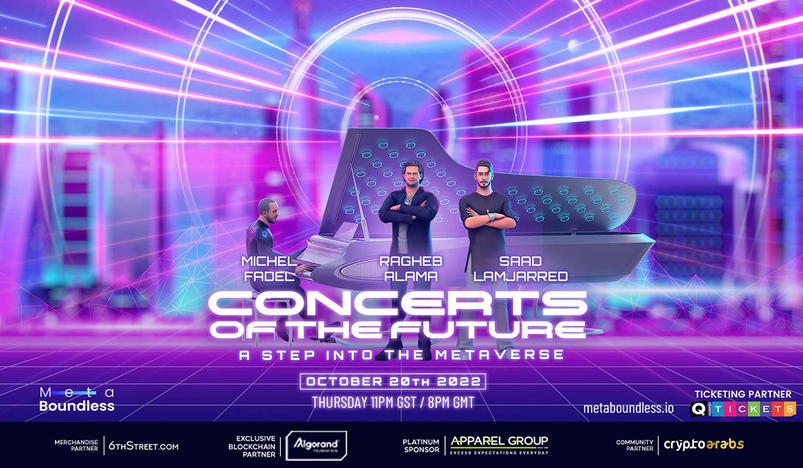 Concerts of the Future - A Step into the Metaverse
In a first-of-its-kind event, a virtual concert complete with digital avatars and striking visuals will be making its way to the fans of Arab Pop with superstars Ragheb Alama and Saad Lamjarred performing in front of a global audience as avatars.
This futuristic concert presented by MetaBoundless in collaboration with composer Michel Fadel is all set to be held on Thursday, 20 October tickets to which can be purchased online at q-tickets.com
 
The concert is a truly remarkable and unique opportunity that shouldn't be missed, being Middle East's first-ever metaverse concert and marking a significant step for all futuristic concerts henceforth. For this event, MetaBoundless has teamed up with the Algorand Foundation to create NFTs that will serve as each concertgoer's digital ticket to the show.
Shamir Ozery, Head of Web3 at the Algorand Foundation commented "The artist avatar NFTs will serve not only as a commemorative token of a user's participation in this experience but also help build a community among attendees and demonstrate utility. It is a great opportunity for music fans to experience firsthand some of the many creative uses for digital assets beyond cryptocurrencies." Show tickets give you NFT rewards through the MetaBoundless claims portal, and have unique benefits that are to be revealed over time.
MetaBoundless is the new cultural economy designed to enhance entertainment, sports and media with the power of community. Intending to enable creators and fans to collaborate and invest in each other, MetaBoundless serves as the Web3.0 bridge between creators and fans, helping connect them to produce and scale creator content.
Adi K. Mishra, CEO and Founder of MetaBoundless emphasized the need for the media and entertainment sectors to keep up with the transformational changes happening in the world. 
"MetaBoundless aims to be at the forefront of this change, and our objective is to be able to
connect celebrities with their fans using tools from the Web3 world."
In partnership with the Apparel group- the retail conglomerate in the GCC, and 6thStreet.com, MetaBoundless intends on delivering exciting merchandise options in order to link the real world and the virtual world for a community-led experience.
Both singers Ragheb Alama and Saad Lamjarred expressed their excitement for the show and all geared up to perform their new and old hits along with composer Michel Fadel. Getting your tickets to this concert is the first step towards accessing the exciting world of Web3, Metaverse, NFTs, and DAOs!
Date: October 20
Time: 11PM GST, 7 PM GMT (10 PM QATAR)
Ticket Price: 
Qatar: QAR 128
UAE: AED 129
Ticket Booking: q-tickets.com
Refund Policy:
Refunds will not be applicable under any circumstances except in the unlikely event that the event is canceled or postponed.
If the event is postponed, refunds will be considered under extreme circumstances with appropriate documentation.
If buyers have already claimed their NFT they will not be entitled to a refund.