Community Gathering for Indonesia's Independence Celebrations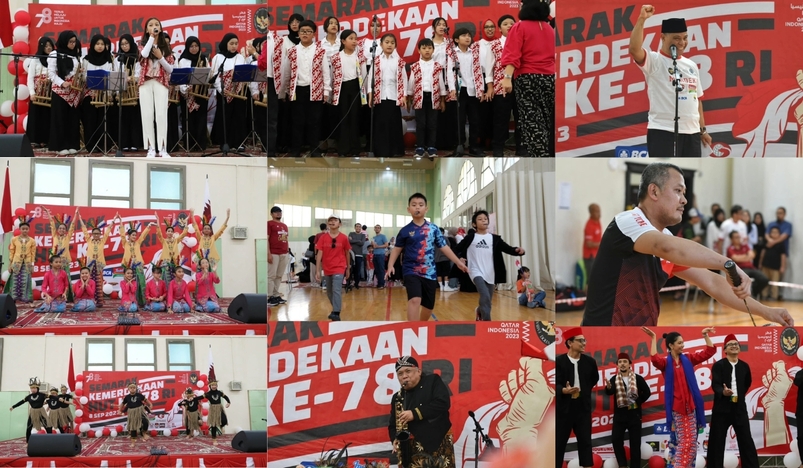 Indonesia Independence Day Gathering
The Indonesian Embassy in Doha, along with the Indonesian community in Qatar, has concluded its celebrations of the 78th Independence Day of the Republic of Indonesia.
The peak event took place at the Al-Thakira Youth Center, AlKhor (08/09) with a community gathering attended by hundreds of Indonesian. 
The event was full of various sports a d cultural activities, including badminton, table tennis competitions, fun games, and an Indonesian cooking competition.
The event also featured art performances and a bazaar showcasing Indonesian cuisine and Indonesian mode. 
Besides, the Indonesian Embassy in Doha also provided consular services to Indonesian citizens living in Qatar. There was also a socialization and consultation session regarding overseas Indonesia's elections which will be held next year. The Independence Day celebration finally came to an end with a thrilling badminton final, featuring the best Indonesian players in Qatar.
"This event is proof of the togetherness and spirit of unity among the Indonesian community living abroad" said Ambassador of Indonesia to the State of Qatar, Ridwan Hassan. 
Further, Ambassador mentioned the importance of Indonesian living in Qatar to uphold the local laws and traditions. "As Indonesians, we have to keep the name of Indonesia high, among others by respecting local regulations and traditions" added Ambassador Hassan. 
This event wouldn't have been possible without the support of various sponsors, including Indomie, Gulf Exchange, BCA, Tofu & Cake, POB, The Sizzlers, Qarib Channel, and Kitchen Addict.