College of North Atlantic, Ashghal Sign MoU to Develop Education, Vocational Initiatives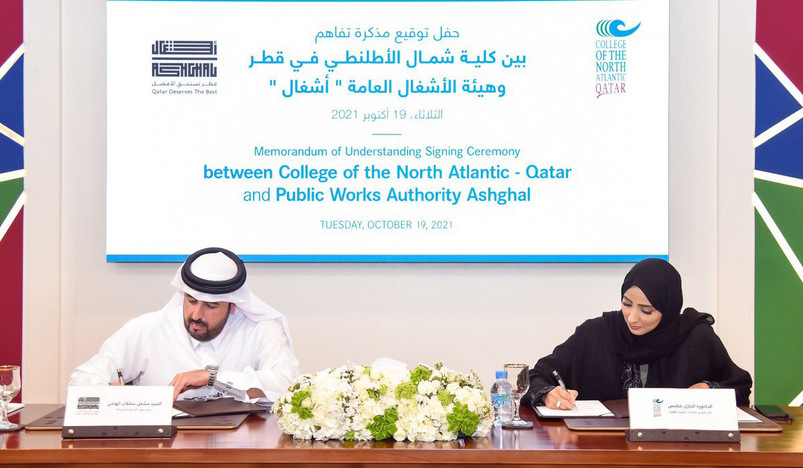 College of North Atlantic, Ashghal Sign MoU
College of the North Atlantic in Qatar (CNA-Q) has signed an Memorandum of Understanding with Public Works Authority (Ashghal), to cooperate in developing and promoting educational and vocational initiatives and projects, as well as outreach activities, including organizing joint conferences, workshops, forums, publications, educational materials and other initiatives, and develop activities on areas of common interest.
This partnership provides CNA-Q students with internship and work placement opportunities in Ashghal, and explores research opportunities in joint cooperation between the two institutions.
The partnership will also offer Ashghal a membership in relevant CNA-Q's Program Advisory Committees to propose new insights and advice.
The MoU scope expands to include a mutual exposure and promotion on both signatories' media platforms, in addition to sponsorship initiatives, trainings and many joint events.
Commenting on the event, CNA-Q President Dr. Salem Al Naemi said: "As an applied College, we constantly look for opportunities that will benefit our students and hone their skills."
Dr. Al Naemi affirmed that this strategic partnership will give CNA-Q's students a chance to experience real-world problem solving and present their findings in their capstone projects, adding "our collaboration will foster mutual knowledge sharing and represents a great milestone in our journey towards achieving Qatar National Vision 2030 goals."
For his part, Shared Services Affairs Director in the Public Works Authority (Ashghal) Meshaal Sultan Al Hitmi said that Ashghal is keen to strengthen cooperation and partnership with all entities in Qatar to implement the various government programs."
He added that signing the MoU with CNA-Q for cooperation will provide the necessary support to researchers and college students in all research fields, in addition to exchanging consultations and various experiences - each in their field of specialization, explaining that this will ultimately stimulate sustainable economic and social development for the State of Qatar.
"There is continuous cooperation and coordination between the Public Works Authority and the various educational institutions in the country," Al Hitme said, adding that the agreement with the College will be a strategic cooperation and a valuable effort to develop the authority's vision in the field of training and development to meet the needs in this field.
"Ashghal does not spare no effort to achieve this vision, through the establishment of infrastructure, roads, and educational, health and public buildings, in addition to supporting researchers and students from the College, training new cadres in all fields, and providing all different consultations," added Al Hitme.
SOURCE: QNA