Where to buy chocolates and desserts for Eid al Adha 2022 in Qatar?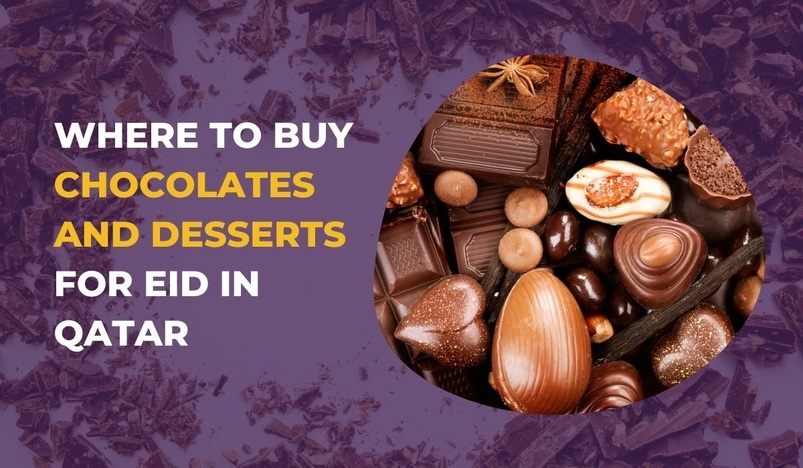 Chocolates and desserts
Chocolates are a type of dessert that not only fulfills your sweet cravings but has an effect on your brain as it releases a happy chemical called endorphins along with dopamine, serotonin, and oxytocin that are responsible for our happiness. So, what are you waiting for? Read this article and find where to buy the best quality chocolates and sweets to celebrate this eid with happiness.  
1. Patchi
Established in 1974, Lebanese-based chocolatier, Patchi is one of the most popular places to buy your Eid chocolates from. Their uniquely designed packages and high-quality chocolates are an all-time favorite customer choice. 
Contact: 55549607
Timing: 9 am - 10 pm
Google Maps
2. Golden gazelle
Golden Gazelle is offering a new perspective on the chocolate world in Qatar with their most delicious chocolate collection. 
Contact: 7773 0207
Timing: 11 am - 10 pm 
Google Maps
3. Buono
Buono Qatar strives to provide unique floral designs and delicious chocolate using carefully sourced ingredients. You can find the finest quality chocolates packed in beautifully designed boxes, perfect for gifts to your loved ones or bringing a box of joy home. 
Contact: 3116 6325
Timing: Sat-Thu 10 am to 10 pm, Fri - 4 pm to 10 pm
Google Maps



2. Sable Sweets
Another great place to buy Eid chocolates, cakes, and the signature Spring Sable sweet with mouth-watering chocolate sauces. Sable has introduced their eid collection consisting of chocolates, fruit tarts, Baklava trays, and more, just perfect for your next Eid!
Contact: 33388976, 50738292/ 31117509, 30007246, Festival city: 77886759
Timing: Sun-Sat 7:30 am to 10 pm
Google Maps 
3. Kaafe Chocolatier
Established in 2011, Kaafe Chocolatier is a simple but remarkable concept that took root on the premises of a Qatari chocolate connoisseur. A blend of Arabic tastes and European standards to hand-craft truly superior chocolates; chocolates that looked exceptional and tasted exquisite. It was ranked 3rd best SMEs in Qatar Twice Awarded chocolate manufacturer. They have a special section for providing Eid boxes and trays filled with delicious chocolates and dessert, just in time to prepare you for your next Eid.
Contact: 66204442, 44441214
Timing: Sun-Sat 10 am to 10 pm
Google Maps
4. Yazi 
One of the most popular chocolates and dessert shops in Qatar, Yazi has the most diligent chocolates served in uniquely packed boxes or trays, perfect for your upcoming special occasion, Eid al-Adha. 
Contact: 44505044 
Timing: Sat-Thu 9 am to 11 pm, Fri - 9 am to 11:30 am, 1 pm to 11 pm
Google Maps
5. RICH Chocolatier 

Rich Chocolatier has invented richly flavored chocolate in Qatar made with the finest ingredients. Their specialty is making chocolates with fresh ingredients and intense flavors. Indulge yourself in the world of chocolate with the first bite as it melts into your mouth. 
Contact: 55242528 (Al Kheesa), 66016799 (Al Waab), 55610952 (Corporate)
Timing: Sun-Sat 10 am to 9 pm, Fri 2 pm to 9 pm
Google Maps
 
6. Creams Sweets
Creams Sweets has introduced their Eid collection of cakes, sweets, and chocolates and they are beautiful, delicious, and absolutely unforgettable! 
Contact: 44888164, 66699945, 66665924 (Wakra), 33366674 (Rayyan)
Timing: Sun-Wed 7 am to 10 pm, Thu - Sat 7 am to 11 pm
Google Maps
 
7. Zain Sweets & Pastries
Zain Sweets & Pastries does not lag when it comes to authentic Arabic sweets. The beehive cake is the definition of delicacy as it is filled with sweet syrup in every bite which you would not want to miss!
Contact: 31317322
Timing: Sun-Sat 8 am to 11 pm
Google Maps
 
Go to the nearest place and order special Eid sweets from their menu. Break your fast after sacrificing the animal on Eid al Adha with your favorite sweet and celebrate this joyous occasion, filled with sweetness.