Carlos Alcaraz defeats Novak Djokovic in epic Wimbledon showdown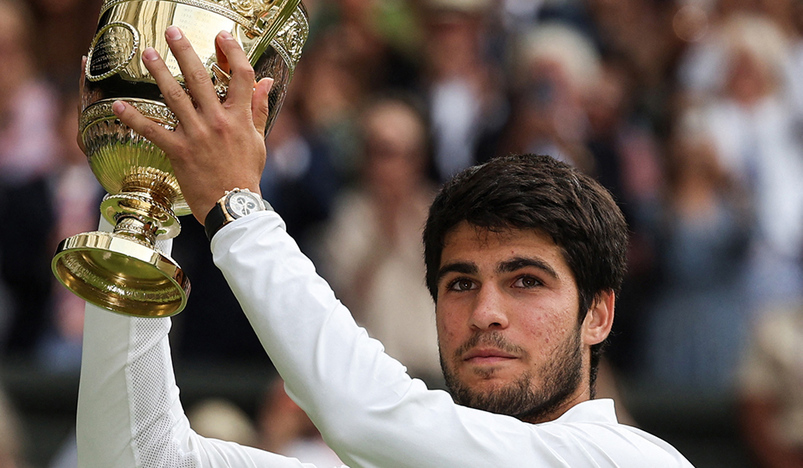 Carlos Alcaraz
World No.1 Carlos Alcaraz overcame reigning champion Novak Djokovic in a thrilling five-set men's final on Sunday to win his first Wimbledon title.
The Spaniard prevailed after nearly five hours on Centre Court, eventually winning 1-6 7-6 (8-6) 6-1 3-6 6-4, tumbling to the court in celebration before volleying a tennis ball into the crowd.
The 20-year-old becomes the third-youngest Wimbledon champion in the Open Era and adds a second major title to his record after winning the US Open last year.
It was anything but straightforward for Alcaraz, who came from a set down against arguably the greatest tennis player in history performing at the peak of his powers.
But in the end, as Djokovic's attempted return failed to make it over the net, a new Wimbledon champion was crowned and Alcaraz cemented his status as the leader of the sport's next generation.
"Well, it's a dream come true for me," Alcaraz said in his on-court interview afterwards. "For me, it's incredible. As I said, it's a dream come true to be able to play in this stages, it's amazing for a boy 20 years old, I didn't expect to reach these kind of situations really fast.
"I'm really proud of myself and really proud of the team that I have. The work we put in every day to be able to live this experience."
A final for the ages
It was the final everyone wanted. The talented youngster against the veteran who was chasing history and had been winning grand slams for fun, securing two majors already this year.
Many expected Alcaraz to come out all guns blazing. The 36-year-old reigning champion was on the back foot early on as he faced a break point in the opening game; the resilience Djokovic has become so well-known for saw him through the danger.
In gusty conditions, Djokovic heaped the pressure back onto the Spaniard in the very next game, racing into a 40-0 lead and three break points. Djokovic converted at the third time of asking to land the first haymaker of the final.
Each rally was filled with beautiful sequences of shots, from deft drop shots to powerful winners. BBC commentator Andrew Castle reminded viewers that what they were watching was "real" and not a "computer game," such was the level of excellence on display.
With the wind swirling and the eyes of the sporting world on Centre Court, it was the experienced Serb who took the first set, breaking Alcaraz a second time and taking a 5-0 lead to put his stamp on proceedings.
It wasn't that Alcaraz was playing particularly poorly – as he showed with his excellently-placed forehand to win his first game of the match – it was just that Djokovic was almost unplayable at times. No matter what Alcaraz threw at him, Djokovic had an answer – he had just two unforced errors in the first set and secured it in just 34 minutes.
CNN