Cafes to visit this Eid 2022 in Qatar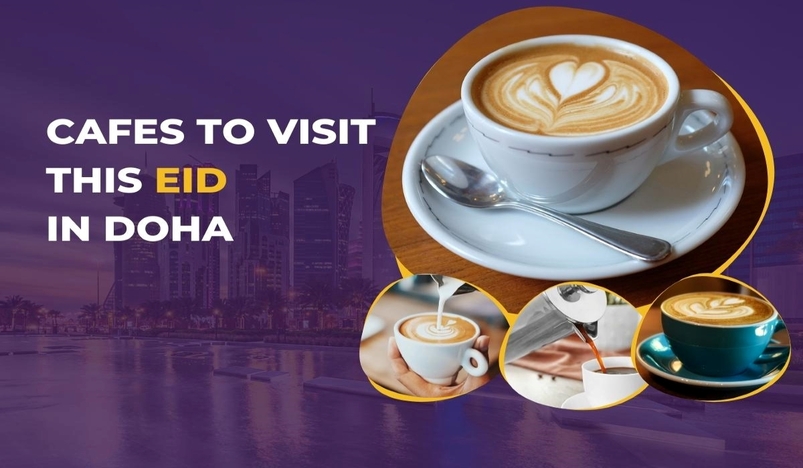 Have you visited the Best Cafes in Doha? Check out our list below!
Are you looking for the best cafes to try out in Doha? Then check out our list below. 
1.Gahwetna 
Gahwetna is a unique coffee shop located at Medina Centrale, The Pearl.
Gahwetna means "Our Coffee" in Arabic. The cafe is decorated in a unique style inspired by Khaleeji culture and offers a wide selection of authentic meals, drinks, sweets, and desserts. 
If you are thinking of trying out some Qatari Food, this is the perfect place to kickstart your day as you enjoy the best breakfast experience at the hands of chef Fawaz. 
You can enjoy oud performances every Thursday and Friday from 8:00 pm - 10: 00 pm on weekends.
Location: Medina Central, The Pearl
Timings:
Saturday - Wednesday: 8:00 AM - 12:00 AM
Thursday: 8:00 AM - 2:00 AM
Friday: 8:00 AM - 11:00 AM & 12:30 PM - 1:00 AM
Contact:+974 3329 0600
2. MADO
Are you looking for something cool this summer?
Check out MADO, a Turkish ice cream restaurant with over 400 branches all over Turkey, Qatar, and other countires.
Mado combines the love of tea and coffee with delicious Food. At Mado, you enjoy a fabulous culinary experience. 
Crowd Favourites at Mado include Pistachio Kunefe, Mado Kesme Ice cream Platter, Hot Chocolate with Ice-cream, Brewed Turkish Tea, and more. 
All you have to do is visit MADO to indulge in an unforgettable experience with a diverse set menu. At Mado, there is something for everyone to enjoy.  
Locations: Landmark Mall, Pearl Qatar, Ezdan Mall Al Wakrah
Timing: 8 am - 12 pm
Contact: +974 44364622
E-Mail: mado@madoqatar.com 
3.Two to Six Coffee
Two to six coffee is the perfect destination for you to enjoy a sip of coffee with your friends and family as you enjoy the view of nature at Aspire Park.
Two to Six Coffee is a favorite hangout spot among the park's attendants, serving as a place to relax, bond with loved ones, and have a good time.
It is also a good place to host workshops, business meetings, parties, etc. 
Location: Aspire Park
Timings: 7:00 am - 12:00 am
Contact: 55128111
4.Desert Rose Cafe
The beauty of the past lives with us today in desert rose.
Desert Rose Cafe is one of the most beautiful cafes in Doha. It is located at Qatar National Museum. 
Desert Rose Cafe offers a broad range of authentic Qatari dishes. Spend a day with your friends, family, and loved ones to enjoy the best Qatari Food and an unparalleled view.
At Desert Rose, you are getting served the best Food imaginable, by Qatar's renowned Chef, Nouf Al-Marri, a specialist in Qatari Cusine. 
Visit Qatar National Museum and Take a look at the menu, order your favorite coffee and enjoy a relaxing drink. 
Location: Qatar National Museum, Museum Park St, Doha
Timings:
Saturday–Wednesday: 9 am–7 pm
Thursday–Friday: 9 am–8 pm
Contact: +974 5525 9646
5. Nomad 
Are you looking for the finest coffee made from high-quality beans and the finest ingredients? Then check out Nomad Coffee and experience a taste of coffee like never before.
As the name suggests, the coffee shop is inspired by the bedioune style, an essential part of Qatari culture and heritage. 
If you are passionate about traditional coffee, this is the best place for you.
.