Budget Hotels for Tourists in Qatar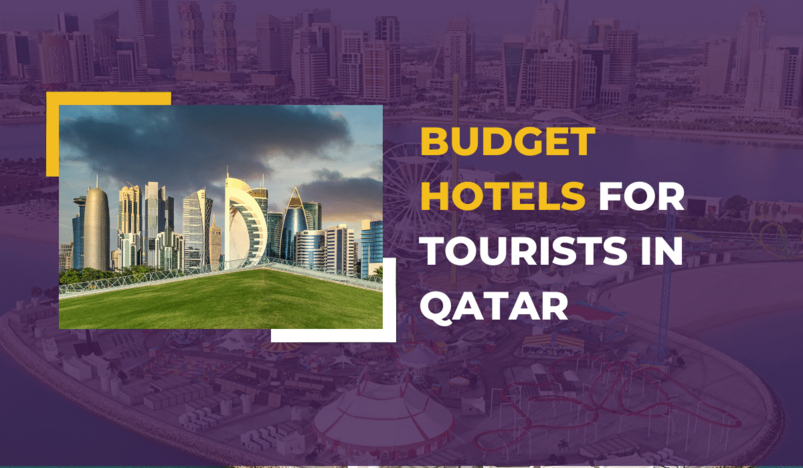 Budget hotels for tourists in Qatar
With the recent increase in the number of expected visitors to the country for the FIFA World Cup 2022 in Qatar, there has been a hike in budget hotels in order to cater to the needs of minimal expenditure visitors. However, these budget hotels are offered to spend only a night or two due to their lack of facilities or lack of access to the city. Some of the top budget hotels in Qatar are mentioned in this article.
Ezdan Hotel
One of the many reasons Ezdan hotel is considered a budget hotel is due to its price being affordable and location being in the West Bay area, which is a very difficult option to find. However, this Ezdan hotel is a great option and is the largest in Doha. The hotel is in a high-rise building which allows you to have a view of the corniche or the city lights of Doha city or the West Bay area depending on your room's location. The hotel offers accommodation from single rooms to long-stay apartments catering to everybody's needs.
Apart from the prime location of the Ezdan hotel, it is surrounded by all types of different cafes, restaurants, and other vital stores such as a pharmacy, laundry, and even a salon. The hotel is within walking distance of the infamous Doha corniche, making it a pleasant stay for one on the promenade. Fully equipped with a health club, an Olympic-size swimming pool, a football pitch, a basketball court as well as a gaming room. For the younger generation, the hotel offers facilities for their activity such as an indoor and outdoor playground, a kid's pool with full safety measures, and many more, making it suitable for all ages. 
Saraya Corniche Hotel
A 4-minute walk from the corniche along Doha Bay, this plush hotel is also 12 minutes on foot from the Museum of Islamic Art. The opulent rooms come with minibars, free Wi-Fi, and flat-screen TVs, as well as sitting areas, and tea and coffee-making facilities. Upgraded rooms have corniche views, while suites offer separate living rooms. Room service is available 24/7 and parking is complimentary. A breakfast buffet can be added for a fee and is served in a posh restaurant. There's also a restaurant, an indoor pool, and a hot tub, plus a sauna and a gym. Meeting rooms are also available for people coming on business trips.
Retaj Al Rayyan

Set by the Arabian Gulf, this laid-back hotel is 3 km from the Doha Corniche waterfront promenade. Warmly decorated rooms with a sea view, making it cozy and comfortable, giving a home-like feeling. It also provides free Wi-Fi, flat-screen TVs, minifridges, a secured storage system, as well as sitting lounges. Big suites have separate living rooms and some have attached kitchens as well. Room service is available and parking is complimentary. There's also a casual restaurant, a gym, an indoor pool, and a spa area for you to relax and enjoy your stay.
Holiday Villa

This upmarket hotel opposite Muntazah Park is just 15 km from the Hamad International Airport, located in the heart of Doha. Relaxed rooms and suites include free Wi-Fi, satellite TV, minifridges, highly secured safety boxes, and tea and coffee-making facilities. Upgraded quarters offer lounge access with free breakfast and evening mocktails. The spacious, modern 2- and 3-bedroom apartments have kitchens and washer/dryers as well. Room service is offered 24/7. Additionally, they also have 2 restaurants, 1 of which serves Chinese/Japanese cuisine, a cafe, a lobby lounge, and an outdoor pool. Other amenities are also included such as a gym and spa.
Strato Hotel
This budget hotel is located in an area filled with office buildings just 13 km from Hamad International Airport. Their rooms are decorated in a very cozy and comfortable setting that has complimentary Wi-Fi and flat-screen TVs, and also includes tea and coffee-making facilities. Upgraded rooms have minifridges, and the suites have living areas with city views. There is a 24-hour restaurant and a shisha bar. Other amenities consist of a rooftop outdoor pool, a gym, and gender-segregated saunas. A ballroom is also available to hold parties or any events.
Holiday Inn-The Business Park
This contemporary business hotel in the Najma financial district is just 5 km from the Doha Corniche. The chic, modern rooms come with free Wi-Fi, flat-screen TVs, and iPod docks, as well as minifridges, and tea and coffee-making equipment. Kids aged 12 and under can stay free of charge in their parent's room. The 2 dining-in options include an Italian restaurant and a burger bar. There's also an outdoor pool and a fitness center. Event space for up to 1,000 attendees is also available.
Visit Qatar and experience the local culture by making your stay worth every cent.