Bud World Club Brings Global Music Performers and Entertainment for the FIFA World Cup™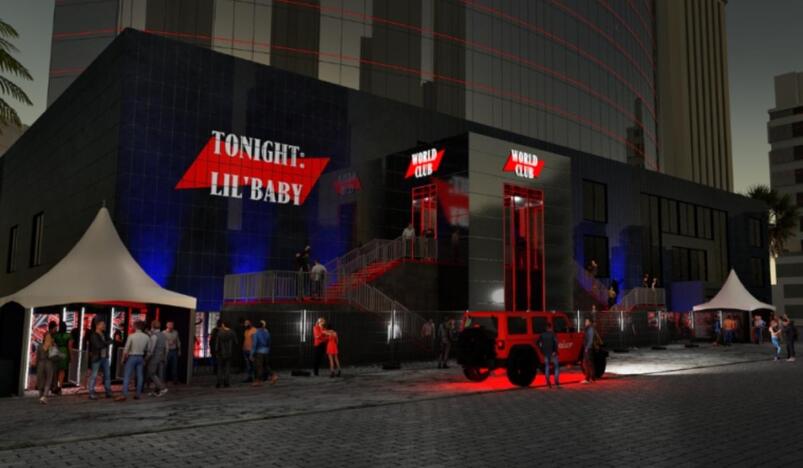 The Bud World Club at the W Hotel & Residences
FIFA World Cup™ fans now have an opportunity to celebrate the tournament at the newly announced late-night entertainment venue, the Bud World Club. The Bud World Club, at the W Hotel & Residences, Doha, opens its doors from the 21st of November until the 18th of December and is operational from 10 pm daily.
The brand, known as an official sponsor of the FIFA World Cup™, will catapult the Bud World Club into the premier late-night venue in Doha during the month-long tournament. The high-energy venue will bring people together and transcend borders and cultures where fans can revel in their shared passion for football and music.
The Bud World Club released the first wave of musical talent including Lil Baby, Ludmilla, Jason Derulo, Peggy Gou, Craig David and Pete Tong. Other global performers will be announced in the coming weeks.
To add to the excitement of the tournament and amp up the club energy, Grammy-winning musical artist Lil Baby celebrates his 28th birthday with an intimate concert at the Bud World Club. He will perform the campaign anthem and a re-make of the Tears for Fears song, "Everybody Wants to Rule the World" which is part of the official FIFA World Cup™ soundtrack.
"As one of the official beverages of the FIFA World Cup™ for more than 30 years, we wanted to capture the global energy of football fans both on and off the pitch. We're excited to host the Bud World Club in Doha at the W Hotel & Residences for the first time in our history," said Todd Allen, Global Vice President for Ab-Inbev. It'll be the place where fans can continue the tournament celebrations with world-known performers."
The brand has partnered with one of the region's most renowned food and beverage hospitality groups making the Bud World Club the most talked about venue in Doha. "We're thrilled to be working with the team on this exciting project. We stock AB InBev products in our venues such as White and Iris so it's great to take the partnership one step further and collaborate on the Bud World Club in Doha" said Tony Habre, Group CEO of ADDMIND. "We will be crafting the nightlife experience in Doha as we always do down to fine art and guests can expect a high-end leisure experience at Bud World Club."
The ticket prices for an evening range from QR 300 to QR 2000. Space is limited and advance purchase is encouraged via www.budworldclub.com