BEST THEME PARKS TO VISIT IN QATAR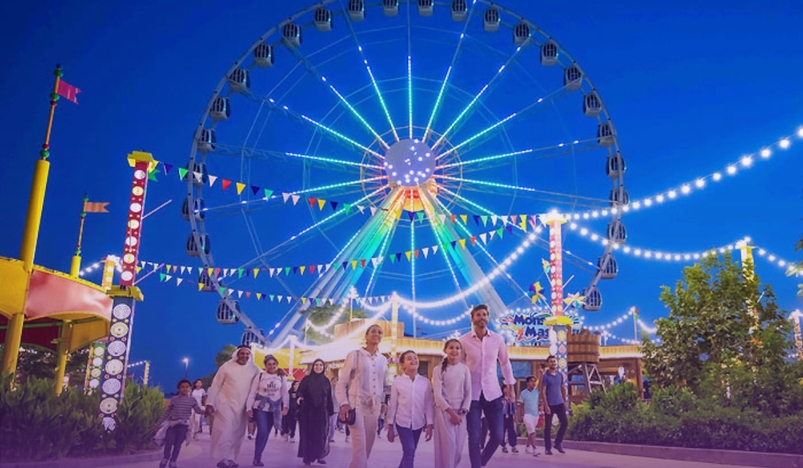 BEST THEME PARKS IN QATAR
Qatar has seen a boom in theme parks in recent years, thanks to the country's rapid development. Now, families have a wide variety of family-friendly options to choose from, including both old-time favorites and cutting-edge amusement parks. These parks are part of a concerted effort to provide visitors with plenty of fun options.
If you're planning a family vacation to Qatar and want to spend a day at a theme park, you'll have plenty of options to keep the kids entertained. From indoor snow centers to the clank and rumble of roller coasters and everything in between, we've listed the top Qatari theme parks below.

Gondolania

Gondolania is the most popular entertainment destination in Doha, located in the high-end Villaggio Mall. It features Venice-inspired gondola rides, an Olympic-sized ice skating rink, and a variety of other attractions, including roller coasters with a unique sound and light show, kiddie rides, and everything else you could imagine in a vast indoor space.
Location: Villaggio Mall, Qatar.
Contact: 4403 9800
Facebook: https://www.facebook.com/Gondolania/

Jungle Zone

The Jungle Zone is a jungle-themed park that is perfect for a family day out. It is one of the best attractions in Qatar for adventure and fun. The park features amazing rides and fun activities, as well as a fascinating interior that will lure visitors in. Animated animals, trees, and other jungle elements have been added to create an experience for everyone. The ambiance is made more dramatic by the rainforest-like setting.
Location :Hyatt Plaza, Doha
contact: 4499 9699
Facebook: https://www.facebook.com/junglezoneqatar/
Instagram: https://www.instagram.com/jzoneqatar/

Doha Quest

Quest is Qatar's first indoor theme park, located in Doha Oasis Mall, Msheireb. It is a 32,000 square meter entertainment destination that caters to all ages. It has over 30 rides and attractions, including adrenaline-pumping thrill rides, media-controlled simulators, virtual reality experiences, miniature thrill rides for younger guests, and family-friendly attractions. It offers a unique experience that is unlike anything else in Doha.
Location: Al Khaleej, Doha.
Contact: 4410 3444
Facebook: https://www.facebook.com/dohaoasisquest/

Angry Birds World Theme Park

Located in Doha Festival City, the Angry Birds World is one of Qatar's largest theme parks where you have top activities and adventures for your kids to try. This is one of the best places for kids to enjoy a day with their favorite Angry Birds characters. The amusement park is built on an area of 17,500 square meters. Every visitor will find something interesting for their entertainment in this Angry Birds World.
Location: Doha Festival City, Doha
Contact: 4042 0444
Facebook: https://www.facebook.com/AngryBirdsWorldQatar/
Instagram: https://www.instagram.com/angrybirdsworld.qatar/

Snow Dunes

Snow Dunes Park, situated in Doha Festival City Mall, is one of Qatar's top theme parks for an icy experience. The snow park is a popular tourist destination in Qatar, which is known for its desert activities. If you are looking for a quick escape from the hot Qatari climate, the snow park is the perfect place to enjoy an adventure.
Location: Doha Festival City, Doha
Contact: 4042 0444
Instagram: https://www.instagram.com/snowdunesqatar/
Facebook: https://www.facebook.com/SnowDunes.qa/

Circus Land

Circus Land is a children's playground inside Landmark Mall in Doha, Qatar. It is a fantastical, colorful space with circus-themed rides and games. The soft play area is the most popular attraction at Circus Land. It is a colorful wonderland with ball pits, tunnels, slides, and climbing structures. Children can let loose and play to their heart's content in the soft play area.
Location: Landmark Mall, Doha
Contact: 4487 6111
Facebook: https://www.facebook.com/circusland.landmark/

KidzMondo

KidzMondo Doha is an international edutainment concept that provides a one-of-a-kind indoor theme park experience for children. It is a kid-sized city designed to teach children through play. Children will participate in age-appropriate activities in a safe and stimulating environment.

Location: Mall of Qatar, Doha.
Contact: 4028 5888
Instagram: https://www.instagram.com/kidzmondodoha/
 
KidZania 

It is a real-life mini city in Aspire Park where kids aged 2 to 14 can work, earn, and play! Has your child ever dreamed of becoming a pilot, surgeon, chef, or firefighter? Here, they can experience different careers in a fun and educational environment.
Location: Aspire Park, Doha
Contact: 4482 6222
Facebook: https://www.facebook.com/kidzania.doha/

Bounce Freestyle Academy

BOUNCE is a freestyle playground that combines the world's most thrilling freestyle activities in one location. It is a training ground for some of the world's top freestyle athletes and a skills development facility for free-spirited children of all ages, thanks to its wall-to-wall trampolines.
Location: Tawar Mall, Doha.
Contact: 4408 6500

Megapolis Entertainment Center

Megapolis, a state-of-the-art indoor entertainment destination, is located in Medina Central, The Pearl. It offers a wide variety of games, attractions, and activities for visitors of all ages, including Scavengers Escape Rooms, Virtual Reality, Bowling, Darts, Billiards, CXC simulators, and a wide variety of food and beverage outlets. Megapolis is Doha's largest entertainment destination.
Location: The Pearl Island, Doha.
Contact: 4437 8444
Instagram: https://www.instagram.com/megapolisqatar/
Facebook: https://www.facebook.com/MegapolisQatar/

Baladna Park

Baladna Park, a green oasis on the outskirts of Doha, is the gateway to a tranquil natural wonderland. Everyone has the opportunity to participate in their favorite outdoor activities at Baladna Park. As Qatar's leading community center, the mission is to bring children, friends, and families together in a safe and nurturing environment.
Location: Umm Al Hawaya, Doha
Contact: 4424 6000
instagram:https://www.instagram.com/baladnapark/
facebook:https://www.facebook.com/BaladnaPark/

Virtuocity:Gaming Theme Park

This breathtaking space is a showcase of all that is great in modern gaming. With its high-end specs and cutting-edge technology, it will exceed the expectations of even the most demanding gamers!
Location: Doha Festival City, Doha.
Contact: 4042 0444
Instagram: https://www.instagram.com/virtuocityqatar/
Facebook: https://www.facebook.com/VirtuocityQatar/