Best Places for 'Shisha' in Qatar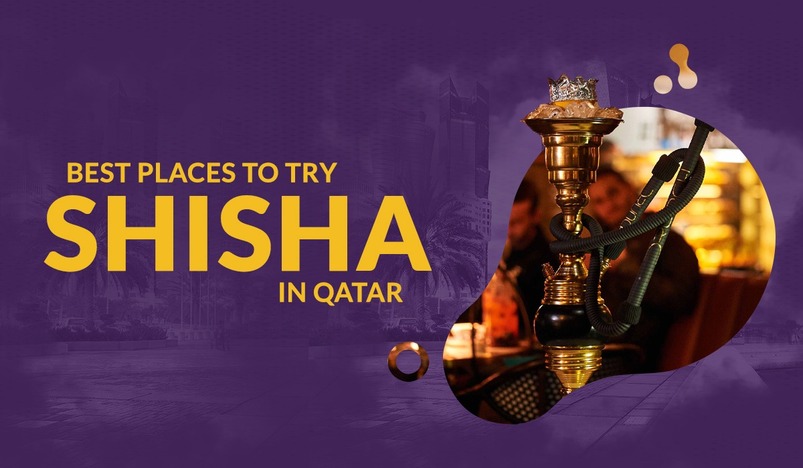 Top Shisha Spots in Qatar
The Ministry of Commerce and Industry (MoCI) in Qatar has announced that starting today, January 29, shisha services may be offered in open spaces of restaurants and cafes in tourist areas.
MoCI issued a decision to prohibit shisha or hookah in all restaurants and cafes operating in the country, last January 8. This decision comes in light of the current health conditions and ihas been made to protect the community in Qatar from COVID-19 and the Omicron variant.
Now, they are made available only in outdoor areas of the said establishments.
There are plenty of outdoor shisha spots in Qatar, and here are our top picks for the best places to experience this favorite past time among locals and tourists alike.
LEVANTINE
Delight in your favorite Lebanese mezzeh and traditional drinks at Levantine Doha, open daily for a flavorful journey to the Levant region.
Do not miss its special sharing menus, Happy Hour daily from 5 pm to 8 pm, and a distinctive Arabic breakfast on Friday and Saturday.
Shisha is available on its heated terrace.
Timings: Open daily 5pm - 12am
Contact: 4492 4620
Location: Hilton Doha the Pearl Hotel & Residences
LE GOURMET
For customers craving for authentic Lebanese International Mediterranean cuisines and flavorful Shisha nights, Le Gourmet is the restaurant to visit.
This restaurant has qualified for "Qatar Clean" requirements in providing the highest standards of hygiene and safety and adhering to the guidelines and requirements of Qatar Clean guidelines.
Timings: Open daily 8am-1am
Contact: 4463 1789
Location: Souq Waqif
BOHO SOCIAL
BOHO Social is a fine casual Bohemian inspired restaurant, lounge and terrace.
Our menu is a culinary journey into the Americas, Asia, Southern Europe and with the Middle East as its home base.
Timings: 9am - 12am (Sat Wed), 9am - 12:30am (Thu-Fri)
Contact: Call 4408 0543 or WhatsApp 7765 5285
Location: Katara Cultural Village
B-LOUNGE
With breathtaking marina views as the main backdrop, culinary and mixology events, celebrity guest DJs, and nightly entertainment, B-lounge provides an unforgettable experience to please any and all taste buds and music lovers.
Timings: 12pm - 11pm (Sun-Thu), 1pm - 4pm (Fri)
Contact: 5080 4421
Location: The Ritz-Carlton, Doha
AQUA LOUNGE
Dine by the pool and enjoy Doha's downtown skyline views at the Aqua Lounge, where we serve fresh fare and cool beverages in a family-friendly environment. Its also offers private spaces on the 8th floor for meetings and social gatherings.
Timings: 6pm - 11:30pm
Contact: 44195000
Location: Marriott Marquis City Center Doha Hotel
WALIMA
Revel in delicious Middle Eastern cuisine served up with the famous Qatari hospitality and service in Walima.
A large, sunken majilis is perfect for large family meals, while the embossed glass boxes offer VIPs the chance to enjoy some privacy. The outside terrace is home to traditional Arabic tents, where oversized Shishas can be enjoyed as the sun sets over West Bay Lagoon.
East meets west for casual dining and ambiance. From mezzeh to the grill to desserts, our dishes are inspired by the region.
Timings: 5pm - 12 am
Contact: 4045 5999
Location: Mondrian Doha Hotel
DAMASCA ONE
From the heart of the city of Damascus comes a new concept in the traditional Syrian food industry. Located in Souq Waqif, Damasca One has a 450 seats capacity.
A modern concept gathering the fragrant of the past and the spirit of the present, away from traditional common Syrian restaurants.
Timings: 8am - 12am
Contact: 33333954 - 44759089
Location: Souq Waqif
HUQQA
As HUQQA expanded it has opened new venues around the world, spanning Dubai, Oman, Qatar, Saudi Arabia and soon to open locations across Europe.
With each new location HUQQA evolves, reinventing itself as a means for escape, targeted at an intellectually trendy, urban elite. With innovation at its core, HUQQA firmly has the inside track, as a brand that is constantly recreating itself - defining today, whilst shaping the path for what's next.
Timings: 10am - 2am
Contact: 44244866
Location: Al Gassar Resort Tower 3
GOURMET DISTRICT
Gourmet district is the first indoor food park in Doha Qatar. From over a hundred of dishes from all over the world, Gourmet district offers a wide variety of cuisines from all over the world. Do you like Asian food or do you actually prefer Middle Eastern ? No matter what your taste is, we are here to serve: that is why we are your new happy place.
Timings: 12pm - 12am
Contact: 7745 4440
Location: UDC Tower, The Pearl