Ashghal opens Logistics City Interchange to traffic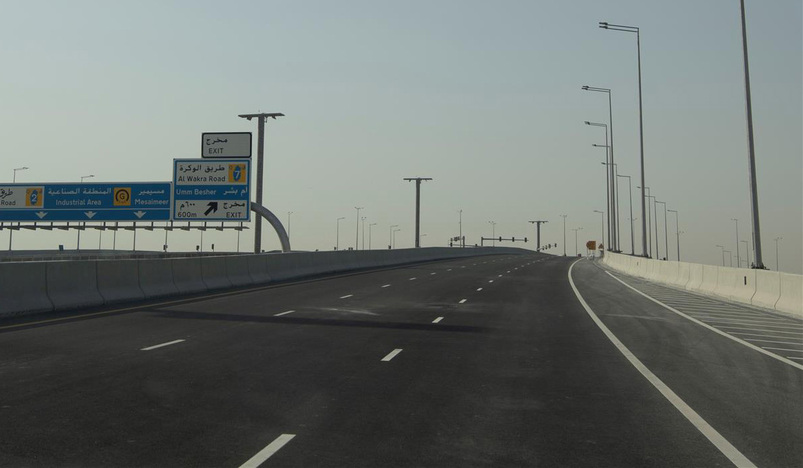 Logistics City Interchange
The Public Works Authority (Ashghal) has opened the Logistics City Interchange to traffic which is located at the south entrance of the G-Ring Road at the Free Zone, southwest of Hamad International Airport before the Airport Interchange.
The new interchange consists of two levels and three bridges each of which has three to four lanes in each direction, in addition to four exits, making the capacity of the junction approximately 10,000 vehicles per hour.
Additionally, Ashghal built three tunnels surface water drainage network, treated water lines for irrigation purposes of the surrounding green areas, and communication network, and service roads on both sides of the interchange, extending for two kilometres in length.
Strategic Interchange
Ashghal said that the Logistics City Interchange will link the east and west Free Zone directly to Hamad International Airport, G-Ring Road, and surrounding roads such as Ras Abu Abboud Street, Airport Road and Sabah Al Ahmad Corridor. The interchange is also integrated with Doha Metro to facilitate access to Free Zone station.
The new interchange is important as it is located in a logistical area of strategic importance, as it will facilitate the movement of commodities and goods from Hamad International Airport and the Free Zone to all areas whether inside or outside of Doha, where G-Ring road is located and leads to south areas, Industrial Area, Al Majd road. It also intersects with Ras Abu Abboud street reaching Corniche and Doha Central.
Eng Bader Darwish, Highway Projects Department manager, said that the expressway network accomplished by 'Ashghal' has achieved a qualitative improvement in traffic across Qatar, & the construction of a new interchange on the G-Ring road will mainly serve the Free Zone, as it does not have a direct connection with G-Ring road. Therefore, the interchange will directly link the Free Zone with the G-Ring road and surrounding areas across the State.
G-Ring Road 
The Logistics City interchange is integrated with the G-Ring road, making it the 9th vital interchange extending of 22km in length. The G-Ring road is one of the most important interchanges of which the expressway network consists of in the State of Qatar.
As an expressway, it provides uninterrupted traffic flow which will positively result in less traffic congestion on other roads in other areas, integrated with other interchanges in the expressway network such as: Sabah Al Ahmad Corridor and Ras Abu Abboud street.
The G-Ring road provides new vital entrances to Industrial Area from the south connecting it with Hamad International Airport, Hamad Port, Mesaieed Road, Bu Samra border and north areas by connecting with Al Majd road, and a direct link to Logistics Village, to and from Hamad International Airport.