Artists from Qatar and Indonesia Work Together on The Exhibition "Dialogue of Paper"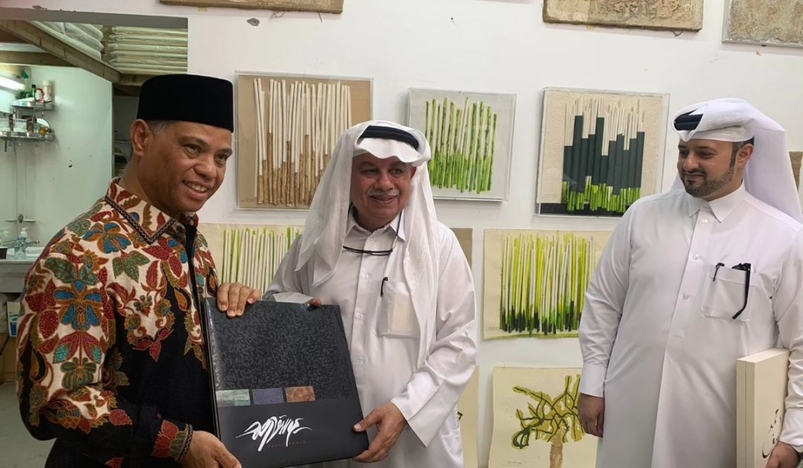 Qatari artist Yousef Ahmad and Indonesian virtuoso Widi Pangestu Sugiono have united in Doha
In a captivating artistic convergence, renowned Qatari artist Yousef Ahmad and Indonesian virtuoso Widi Pangestu Sugiono have united in Doha, driven by their shared passion for papermaking. This creative partnership, orchestrated under the Qatar-Indonesia 2023 Year of Culture, breathes life into the 'Dialogue of Paper' project. Their combined efforts will be the cornerstone of the upcoming second annual 'Dialogue of Paper' exhibition, set to grace galleries in Indonesia this December and Qatar in 2024.
Dr. Aisha Abdulla Hamad Al Misnad, a prominent figure in the museum realm and curator of this immersive exhibition, expresses her excitement: "The 'Dialogue of Paper' encapsulates a unique concept that invites us to explore a material deeply woven into society's fabric. Its historical journey stands as a testament to human ingenuity and cultural advancement. Our goal is to elevate papermaking beyond utility, rekindling its historical essence as a conduit of cross-cultural interaction. The resulting masterpieces will embody each nation's identity."
This year's 'Dialogue of Paper' theme explores humanity's resilience, thriving regardless of the environment. It cleverly contrasts Indonesia's lush forests with Qatar's arid deserts, evoking themes of abundance and emptiness—concepts the artworks will eloquently convey through bespoke paper crafting techniques.
Both artists, Yousef Ahmad and Widi Pangestu, have made their mark through meticulous dedication to their medium, forming the foundation for their intricate masterpieces.
In the early stages of his career, Yousef Ahmad delved into lithography and typography, innovatively connecting them with Arabic calligraphy to reimagine letter forms. Lately, his focus has been on crafting paper from palm-tree pulp, inspired by Qatar's environment. Widi Pangestu, on the other hand, is celebrated for his inventive approach to papermaking, treating the process as an art form in itself. He envisions paper as both functional and historically significant, bridging past, present, and future.
The inception of the 'Dialogue of Paper' was rooted in the Qatar - Japan Year of Culture, an exhibition celebrating five decades of diplomatic ties. This recurring exhibition is now becoming a vital annual event within the initiative, hosting international artists from partnering countries.
Years of Culture, initiated in 2012 by Qatar Museums Chairperson HE Sheikha Al Mayassa bint Hamad bin Khalifa Al Thani, fosters understanding and global appreciation. Its remarkable success is evidenced by a decade-long journey, collaborating with countries such as the UK, Brazil, Germany, Turkey, India, France, and more.