Algeria: Athlete suspended after Olympics withdrawal to avoid Israeli opponent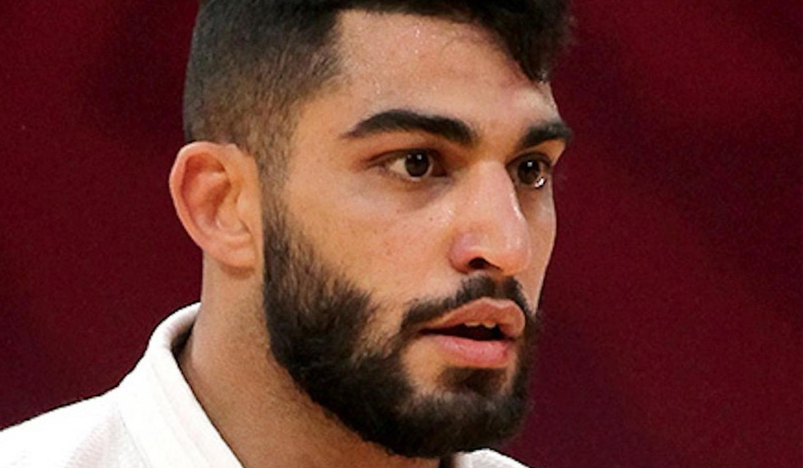 Fethi Nourine withdrew from the Olympics so he would not have to face an Israeli competitor (Reuters)
Fethi Nourine faces further disciplinary action for pulling out of judo event due to possible bout with Tohar Butbul
The International Judo Federation (IJF) announced that Algerian athlete Fethi Nourine and his coach, Amar Benikhlef, would face disciplinary action after the judoka withdrew from the Olympics to avoid facing an Israeli competitor.
The IJF said in a statement published on Saturday that the executive committee formed an investigative commission that decided on the temporary suspension of Nourine and his coach.
According to the statement, the case will also be assigned to the disciplinary commission of the IJF for further investigation, judgment, and final sanctioning beyond the Olympic Games. 
"These actions were taken based on the officially recorded declarations of both Fethi Nourine and Amar Benikhlef, that were published in the media and that are in total opposition to the philosophy of IJF," the statement read.
"The IJF has a strict non-discrimination policy, promoting solidarity as a key principle, reinforced by the values of judo."
The IJF said it acted according to its rules, "in line with the Olympic Charter and especially with rule 50.2 ... which provides for the neutrality of the Games [and] which states that 'no kind of demonstration or political, religious or racial propaganda is permitted in any Olympic sites, venues or other areas". 
Rejecting normalization
Nourine, who was set to compete in the men's under 73kg judo competition, announced his decision on Thursday, one day before the Tokyo Olympics opening ceremony.  
The 30-year-old athlete was set to fight Sudan's Mohamed Abdalrasool on 26 July in the first round. If he won, he would have proceeded to a potential clash with Israel's Tohar Butbul. 
Nourine spoke to local Algerian media on his withdrawal, saying that his support for the Palestinian cause made it impossible for him to compete against Butbul. 
"We have worked hard to qualify for the Games, but the Palestinian cause is bigger than all that," he said.
"My position is consistent on the Palestinian issue, and I reject normalization, and if it cost me that absence from the Olympic Games, God will compensate."
The athlete's coach also referred to in the media as Amar Ben Yaklif, told the press: "We were unlucky with the draw. We got an Israeli opponent, and that's why we had to retire. We made the right decision."
This is not the first time Nourine has withdrawn from competition to avoid facing an Israeli opponent. In 2019, he pulled out of the Judo World Championships in Tokyo for the same reason. Several Iranian judoka followed suit, triggering strong protests at the time.
During the 2016 Olympics, Egyptian judoka Islam el Shehaby left the competition because he refused to shake hands with a rival from Israel.
Algeria does not officially recognize the state of Israel and refuses entry to any person holding an Israeli passport.
The 2020 summer Olympics in Tokyo were postponed in March last year, due to the Covid-19 pandemic. They are now taking place from 23 July to 8 August.