Afghanistan: 'Terrified' British Council teachers still in hiding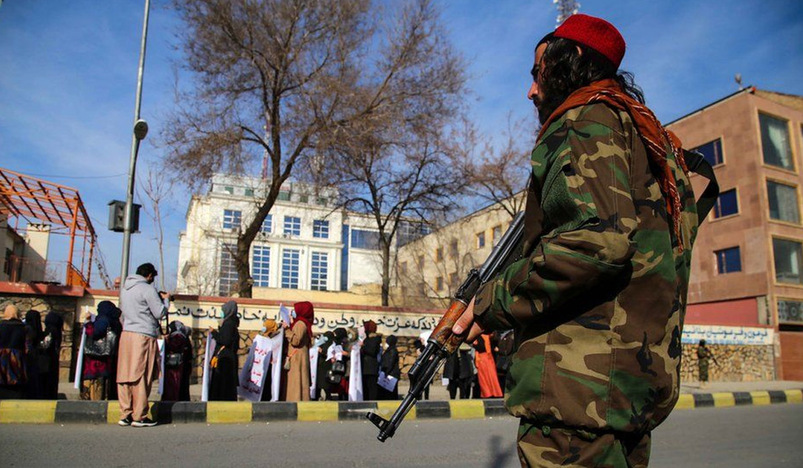 Around 100 ex-British Council staff are still in Afghanistan despite the Taliban taking over the country
Afghans who were employed to spread British values and teach English in Helmand province have told the BBC they are still in hiding from the Taliban and remain "terrified of reprisals".
Around 100 ex-British Council staff are still in Afghanistan having so far been denied the right to come to the UK.
"We are all sitting inside, like in prison," one said, while another said they were now running out of money.
The Foreign Office said a new scheme will bring thousands more to the UK.
The teachers have been told they can apply for the new Afghan Citizens Resettlement Scheme.
But many have been in hiding since the Taliban took control of Afghanistan in August.
The British Council, a public body that works around the world to promote cultural and educational links, says the risk they now face is "gravely evident".
"We know our former colleagues are living in increasingly desperate circumstances, as the situation in the country continues to deteriorate," said Scott McDonald, the British Council's chief executive. He described the teachers as "the face of the UK in Afghanistan".
'We had to do it'
"Rahimallah", a man in his 20s whose real name we are not using, spent two years working for the British Council in "risky and dangerous" circumstances in Helmand, where British troops were based until 2014.
One of his tasks was to teach "equality, diversity and inclusion" to school teachers - often in the face of strong local opposition. Even many well-educated male teachers rejected the idea of gender equality, he said.
"We had to do it," he told the BBC. "We told them that lesbians, gays and bisexuals have to be accepted in our Afghan communities, but they rejected it. They said that I was doing a job which was completely against Islamic values."
He remains in hiding - unable to work or see his family - and is convinced that, if the Taliban found him, he would be killed.
"A relative of mine posted on Facebook against the Taliban, saying that they could not pay teachers' salaries," he says. "The next day, Taliban intelligence men abducted him, tortured him and killed him, and then threw his body in the Helmand River. Just for a Facebook post." He added: "I'm sure they will do the same with me."
Source: QNA