Afghan Women Speaks on Unyielding Hope of Restoring Their Homeland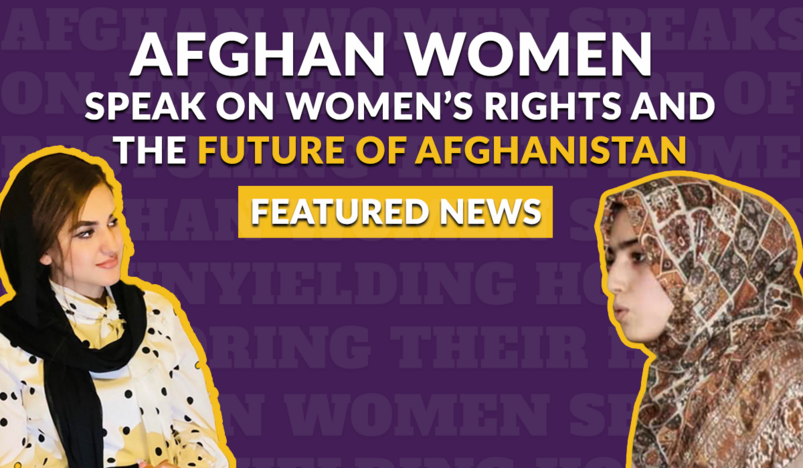 Marwa Koofi (left), Hella Hidai (right)
August 15 turned out to be an unforgettable day, especially for the inhabitants of the capital city – Kabul as an atmosphere of fear reigned. Venturing for peace, instantaneously slipped away when the 20-year war in the region culminated, as the Taliban took their seats in the presidential palace. 
"I have the opportunity to leave the country," said 23-year-old Hella Hidai, who is pursuing her final year in law and political science at Kabul University. Each day she wakes up to her country's trepidation as she is a former government employee and women's rights activist who chose to stay in Afghanistan to serve the nation. 
Taliban's invasion has caused deep quandaries in the region as citizens face food scarcity, closure of educational institutions and the lack of adequate healthcare facilities, while many are left unemployed. 
Speaking to Qatar Day, Hidai said: "For all people, including the educated, there are two types of problems, especially for women. One is that their universities and schools are still closed, and another one is they don't have jobs. Through these two problems, they suffer a lot."
She accentuated the significance of peace in her country as the main substratum for carrying out any rights. 
"For now, the important thing for ordinary people is not jobs or women's rights, but only peace because we have been living in a very hazardous situation for many decades," she said.
"If peace is stable, other rights can be implemented," she added. 
The human rights activist who took part in various programs, especially for women, stands firm on her ground without leaving her country to be a voice of the voiceless. 
"We should stand for our Country, we should stand for our rights, and we should stand for the peace of Afghanistan."
Contemplating her role for the nation, Hidai yearns to complete her education and work alongside international organizations to establish peace and stability in the country.
"I don't want to leave my country. It's important for me to serve my people and my country."
Speaking on her melancholy experience fleeing the country, Marwa Koofi, 21, reminisces her journey to the UK transiting through Dubai on the 27th of August. 
"I was in a car. I was going to [take] a PCR test. Really relaxed. I never ever imagined that on that day [August 15], the Taliban would take control of the entire country. It's not easy to take over a whole country. It's impossible for them. In two hours' time, they captured Afghanistan."
The activist cum student is the daughter of Maryam Koofi and niece of Fawzia Koofi, both former Afghan Members of Parliament. 
Albeit the American troops invaded Afghanistan to avert the war, today, Afghans blame the US for leaving without making any positive impact whatsoever. 
"It is a big failure for them [United States] because their 20-year war amounted to nothing for us," she said.
Many countries, including Qatar, tirelessly worked in helping Afghans evacuate the region in a fast-paced phase. Koofi added "For the people in Afghanistan, it was a failed mission by the US because they were not organized."
Taliban's seizure of Kabul city caused a great tumult in the region as people were seen desperately rushing to the airport to leave the country.
"It usually takes just 30 minutes to go inside the airport, but for me, it took two days" she said.
Taliban's previous regime has caused havoc in the country, explained Koofi, stating that there was no respect or rights for women and girls. 
"They do not acknowledge women's rights. So how can they implement it? There is not even a single woman in their new government, and that says it all. They might be trying to show the world that they have changed, but behind their decisions, it seems they haven't changed" Koofi told Qatar Day.
Explicating Afghanistan's future, she said: "If this continues, I don't see any future for my country, and this really breaks my heart. It is a dark future not just for women, but for men, and for everyone."
Koofi who desires to complete her education expressed her vehemence towards hoping Afghanistan achieves peace and regains its strengths. 
"Trust me", she continued, "if Afghanistan is in a safe situation, if the country is in a good condition, a proper government is there, a proper life is there, if human rights are considered there, women rights are implemented, I will be the first woman to go back to my country."