Begin the Day with Breakfast at Jiwan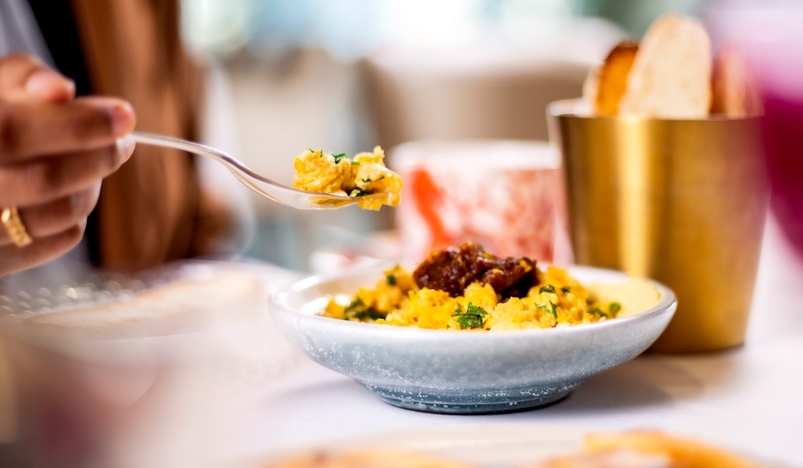 A cuisine from Jiwan
Wake your senses up with hearty dishes and the amazing view from the Terrace
Jiwan, a place to pause and enjoy an immersive reflection of Qatar's rich culture while sampling the culinary delights of modern Qatar, launched its Breakfast Menu available from Saturday to Thursday, 7:00 a.m. – 12:00 p.m., at the 4th floor of the National Museum of Qatar (NMoQ).
There are two Set Menu options to choose from.  The "Wake Up" set offers a hot drink, fresh juice and sweet dish.  While the "Sunrise Set" offers a hot drink, fresh juice, sweet, savoury and egg dish.  Breakfast a la carte menu is also available, allowing the freedom to explore the tastes, colours and flavours of Jiwan's contemporary Qatari cuisine. These breakfast dishes are made more special with the classic Jiwan twist – a homage to the culinary legacy of Qatar. Both options are reasonably priced and have the benefit of enjoying the ambiance and surroundings.
With the breakfast menu in place, one's morning walk or exercise at the Museum Garden of NMoQ is made more enjoyable and immersive.  Health enthusiasts and families enjoying their mornings at the Museum have access to a healthy and hearty breakfast.
Executive Chef, Jeremy Cheminade shares, "Our breakfast menu is created to offer our guests contemporary Qatari cuisine with a twist aimed to energise them throughout the day.  They will enjoy the flavours and presentation that tantalise their senses".
Meanwhile, Jiwan's Head Chef, Morgan Perrigaud, said, "The newly launched breakfast menu is our way of telling our customers that we would love to welcome them not only for lunch and dinner but also during the start of their day.  Through our menu, we endeavour to provide them with the best of Jiwan experience."
Jiwan is named after the Qatari word for the 'perfect pearl', rose-tinted white, completely round with a lustre so pure that it comes alive with radiance. It is nominated for FACT Dining Awards under the Middle Eastern category. 
For more information on Jiwan and to make reservations, visit: jiwan.qa or call +974 44525725
Jiwan
Premium Restaurant
4th Floor of the National Museum of Qatar Open
QAR 300
FOR 2
RATINGS & 0+ REVIEWS
Working Hours
Sun


07:00 AM- 09:00 PM

Mon


07:00 AM- 09:00 PM

Tue


07:00 AM- 09:00 PM

Wed


07:00 AM- 09:00 PM

Thu


07:00 AM- 09:00 PM

Fri


07:00 AM- 09:00 PM

Sat


07:00 AM- 09:00 PM