City Centre Rotana Doha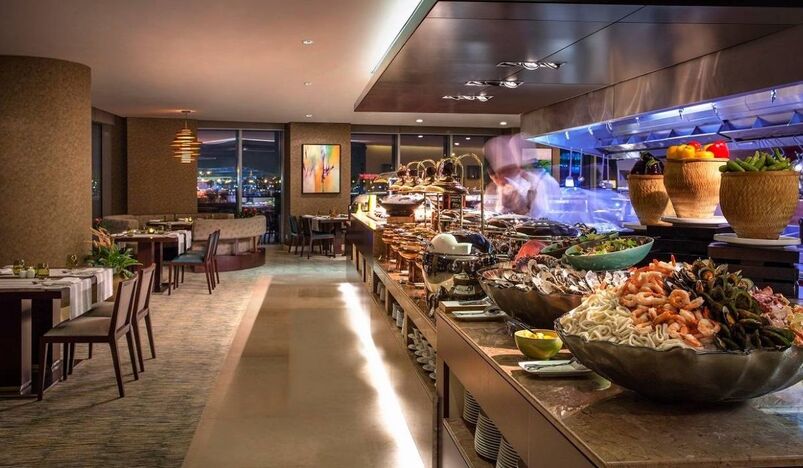 Restaurant at City Centre Rotana Doha
Dining and Entertainment
City Centre Rotana Doha offers a feast of culinary options in a variety of exquisite settings. Each restaurant in Doha shines with its own character and cuisine, and all are defined by signature bespoke service. Revel in the cuisine of our talented chefs, whose interpretations of contemporary Western and Eastern, inventive authentic, classical and modern evoke all five senses, each with its own distinctive ambience.
Complimentary high speed internet access is available in all dining venues. If you prefer to dine in the privacy of your room, you may explore our extensive room service menu, available at all times. 
The health and wellbeing of our guests and colleagues is an unwavering priority for all and social distancing and online interactions and services have become the norm. For this reason, we have embraced the latest technology, boosted our employee training and strengthened our already stringent health, safety and cleaning procedures with our 'Rotana Safe Space' programme as well as Qatar Clean initiative designed to give you peace of mind.
For more information please see website and dedicated brochure: https://www.rotanatimes.com/news/25113
While the restaurant procedures and services have changed to protect you, the warm welcome you will receive when you dine with us most definitely has not.
Best wishes for an enjoyable and safe dining experience with us.
At a Glance
City Centre Rotana is a 5 star hotel located in the heart of Doha, connected to City Center Mall and mere steps from the new Doha Exhibition and Convention Centre. The hotel is nestled in the key business and commercial district of West Bay and just 30 minutes' drive from the new Hamad International Airport. The perfect choice for both business and leisure travellers.
An elegant hotel with 381 guest rooms, suites and apartments spread over 47 floors. Each contemporary room features floor to ceiling windows that have an exceptional view of the sea and city skyline. The hotel features the iconic Club Rotana Lounge on the 24th floor, which is a hotel within a hotel delivering an outstanding and personalized hospitality experience. Guests are spoilt for choice with 7 distinctive dining venues that set the hotel apart as a destination in itself. There is something to suit everyone's tastes at Rotana's restaurants, bars and lounges in Doha with a variety of scrumptious international and oriental dishes.
For conferences, exhibitions, meetings, weddings and social events the hotel offers an extensive range of multi-functional meeting and event spaces. Bodylines Fitness & Wellness Club, offers a fully equipped gym, massage treatments, outdoor terrace and swimming pool. City Centre Rotana Doha is bringing Rotana's distinctive brand of hospitality to Qatar.
Working Hours
Sun


12:30 PM- 10:30 PM

Mon


12:30 PM- 10:30 PM

Tue


12:30 PM- 10:30 PM

Wed


12:30 PM- 10:30 PM

Thu


12:30 PM- 10:30 PM

Fri


12:30 PM- 10:30 PM

Sat


12:30 PM- 10:30 PM