Things You Should Know About Qatar's Royal Family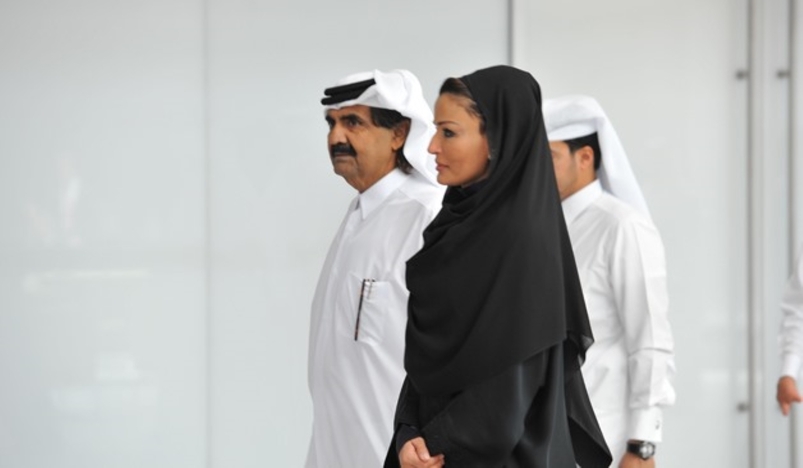 Royal family
Qatar used to be a poor British protectorate which was mainly a pearling community. Now, Qatar is the world's richest country and is home to the world's third-largest natural gas reserve. The tiny Arabian Peninsula has the highest per capita income in the world, according to the International Monetary Fund (IMF).
Besides its wealth, Qatar is home to Al Jazeera Network and is an influential player in the Arab world. Qatar is also preparing to host the 2022 FIFA World Cup, and will be the first Arab country in the world to host the event.
A number of powerful individuals including the Al Thani family, Qatar's royal family, are behind Qatar's great success and world status today.
The Al-Thanis are by far the most powerful family/tribe in Qatar. There is no other that comes even close to the power they wield. This of course doesn't come as a surprise since they have been the ruling family since the 19th century. It is widely known in academia at least, that the only contenders ruling Al-Thanis need to be wary of are members and branches of their own family/tribe. Looking at either the economic or political spheres of influence reveals that Al-Thanis are in a league of their own.
Qatar's royal family currently already owns more property in London than England's royal family. Once completed, their new home is expected to be London's most expensive, with an expected worth of £313 million.
The Thani family is the probably the only family that has been ruling a state without any conflicts with its people who are some of the wealthiest in the world.
THE HOUSE OF AL THANI: QATAR'S ROYAL FAMILY
The ruling family of Qatar, Al Thani, has been ruling the Arab Peninsula since before its independence from the British in 1971. The first Al Thani to rule Qatar was Sheikh Mohammed bin Thani in 1850. Until today, Qatar has been ruled by nine Al Thani sheikhs in this order:
• Sheikh Mohammed bin Thani (1850–1878)
• Sheikh Jassim bin Mohammed Al Thani (1878–1913)
• Sheikh Mohammed bin Jassim Al Thani (1913–1914)
• Sheikh Abdullah bin Jassim Al Thani (1914–1949)
• Sheikh Ali bin Abdullah Al Thani (1949–1960)
• Sheikh Ahmad bin Ali Al Thani (1960–1972)
• Sheikh Khalifa bin Hamad Al Thani (1972–1995)
• Sheikh Hamad bin Khalifa Al Thani (1995–2013)
• Sheikh Tamim bin Hamad Al Thani (2013–present)
Achievements:
HH, The Father Emir, Sheikh Hamad bin Khalifa Al Thani (1995–2013)
In 1995, Sheikh Hamad saw his chance to claim complete power so when his father left Qatar to visit Switzerland, he deposing him in a bloodless coup.
He was smart in not relying on income from gas and oil, Sheikh Hamad invested billions of dollars is businesses including Volkswagen, Total, Sainsbury's, and Barclays bank.
He opened one of the state's most successful business ventures, the first pan-Arab satellite news channel, Al-Jazeera.
He is the reason for Qatar's stability and prosperity and abdicated his throne to his son HH Emir Tamim.
HH The Emir Sheikh Tamim bin Hamad Al Thani (2013–present)
Born on 3 June 1980, HH Sheikh Tamim bin Hamad Al Thani is the Emir of Qatar and the fourth son of HH The Father Emir, Sheikh Hamad bin Khalifa Al Thani. He was appointed as Qatar's Heir Apparent on 5 August 2003 when his elder brother Sheikh Jasim renounced his claim to the title. He became Emir of Qatar on 25 June 2013.
HH The Emir received his education at Great Britain's Sherborne School (International College) in 1997. He then attended the Royal Military Academy Sandhurst, graduating in 1998. In 2005, Sheikh Tamim founded Qatar Sport Investments, which owns Paris Saint-Germain FC. Among other investments. In 2006, he chaired the organising committee of the 15th Asian Games in Doha.
Under his leadership, Qatar won the rights to host the 2014 FINA Swimming World Championships. Emir Tamim is a member of the International Olympic Committee and the National Olympic Committee chairman. He headed Doha's bid for the 2020 Olympics.
Sheikh Tamim heads the Qatar Investment Authority board of directors. Under his leadership, the fund has invested billions in British businesses. It owns large stakes in Barclays Bank, Sainsbury's, and Harrods. The fund also owns a share of Europe's tallest building, The Shard.
Sheikh Tamim previously held a number of other posts including:
• Chairman of the Supreme Council for the Environment and Natural Reserves
• Chairman of the Supreme Education Council
• Chairman of the Supreme Council of Information and Communication Technology.
• Chairman of the board of directors of Public Works Authority (Ashghal) and the Urban Planning and Development Authority (UPDA)
• Chairman of the board of regents of Qatar University
• Deputy Chairman of the Ruling Family Council
• Vice president of the Supreme Council for Economic Affairs and Investment
• Deputy Chairman of the High Committee for Coordination and Follow Up
HH Sheikha Mozah bint Nasser Al Missned
• Sheikha Mozah is the second of the three wives of Sheikh Hamad bin Khalifa Al Thani.
• She serves as Chairperson of Qatar Foundation for Education, Science and Community Development (QF), a private non-profit organisation founded in 1995.
• Its flagship project is Education City, which covers over 14 million square metres and houses branch campuses of renowned international universities and institutions.
• Sheikha Mozah is the driving force behind Education City and Al Jazeera Children's Channel.
• Sheikha Mozah plays an active role with the United Nations (UN) to support global education. In 2003, she was appointed as UNESCO's Special Envoy for Basic and Higher Education; in 2008 she was appointed by the Secretary General of the UN as Alliance of Civilizations (AOC) Ambassador; and in 2010 she became a member of the UN Millennium Development Goals Advocacy Group with a special emphasis on Goal 2 – universal primary education. In 2012, she was appointed as a Steering Committee Member of the UN Secretary-General's Global Education First Initiative.
Sheikha Mozah has been named as one of Forbes' 100 Most Powerful Women at #75.