Ibn Al Qayyim Bookstore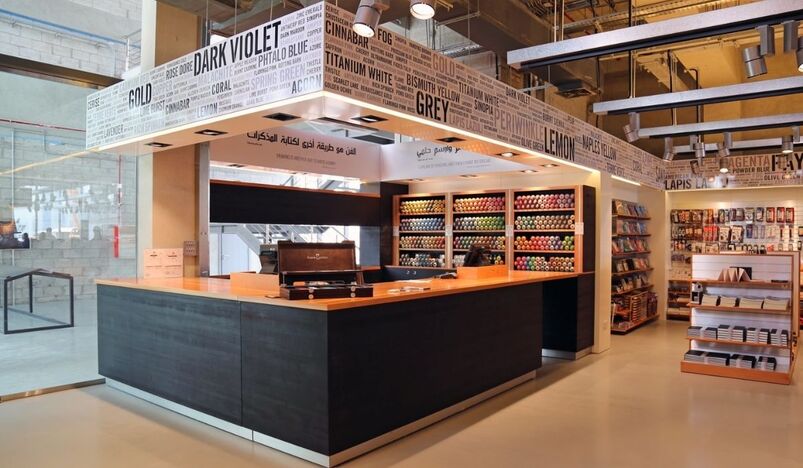 Inside view of Ibn Al Qayyim Bookstore
Ibn Al-Qayyim Bookstore was founded in May 1990 in order to work in the field of books, stationery and advertising and other activities. At first it was only one bookstore, then number of activities have been added to the company like Ibn Al- Qayyim Printing Press and gradually has been expanded to work in the field of books and stationeries, then some additional branches have been opened in order to cover all areas of Qatar, hence Ibn Al-Qayyim has become a pioneer in this field and later became one of the most important landmarks of Qatar state because of its services for the students, teachers, school, the government, institutions, private companies and universities.
Ibn Al-Qayyim Bookstore is not limited to Bookstore and has Office Supplies, School Supplies, Electronics, Books, Crafts, Toys, Arts and much more. 
There are several Branches of the Bookstore.
1. MARKHIYA
Address : Doha, Khalifa St., MArkhiya, Between McDonald's & Burger King
Phone : +97444863533
Opening Hours : Saturday – Thursday: 8AM to 10 PM
                             Friday: 4 PM to 10 PM
2. RAYYAN
Address : Al Shafi St., Ar-Rayyan
Phone : +97444363533
Opening Hours : Saturday – Thursday: 8AM to 10 PM
                             Friday: 4 PM to 10 PM
3. WAKRAH
Address : AlWakra Main St., Next to Pearl Intersection
Phone : +97444363533
Opening Hours : Saturday – Thursday: 8AM to 10 PM
                             Friday: 4 PM to 10 PM
4. OLD AIRPORT
Address : 9 AlMatar AlQadeem St., Doha
Phone : +97430256313
Opening Hours : Saturday – Thursday: 8AM to 10 PM
                             Friday: 4 PM to 10 PM
5. ALKHOR
Address : Al Khor Costal Road In Front of Al Khor Mall
Phone : +97444725154
Opening Hours : Saturday – Thursday: 8AM to 10 PM
                             Friday: 4 PM to 10 PM
6. AZIZIYA
Address : Salwa Road, Doha
Phone : +97444693533
Opening Hours : Saturday – Thursday: 8AM to 10 PM
                             Friday: 4 PM to 10 PM
7. MUNTAZH
Address : AlMuntazah, Street 51, Doha
Phone : +97444693533
Opening Hours : Saturday – Thursday: 8AM to 10 PM
                             Friday: 4 PM to 10 PM
Click her to visit the Ibn Al-Qayyim official website