2021 Qatar Classic Squash Championship Begins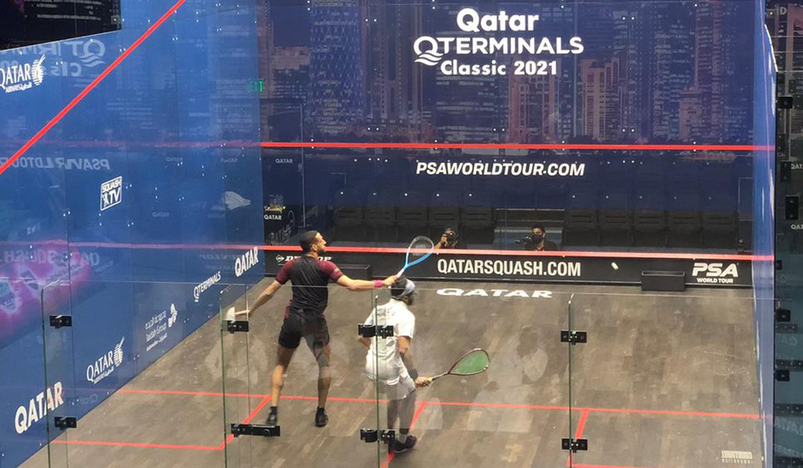 Qatar Classic Squash Championship
The first main round of the Qatar Classic Squash Championship 2021, which is organized by the Qatar Tennis, Squash and Badminton Federation (QTSBF), started today on the courts of Khalifa International Complex until October 23, with the participation of a large number of world's top ranked players.
The tournament is organized amidst COVID-19 precautionary measures, and all the ranked players who will participate starting from the second round tomorrow have arrived in Doha.
The first round competitions began with the Indian Ramat Tandon match against Scottish George Lobban, Ramat won 3/2 to qualify for the second round, England's Patrick Rooney also beat Hong Kong's Vung Yap, 3/2.
England's George Parker also qualified for the second round by defeating Spain's Burnett Guam 3/2, and France's Sebastien Bonmilais by defeating Mexico's Cesar Salazar 3/1, Frenchman Lucas Serme defeated Egyptian Mazen Gamal 3/0, other Englishman Tom Richard defeated American Khan Shahjahan 3/0, and the Spanish Iker Pajares defeated the Swede Dimitri Steinmann 3/2.
Promising Qatar national team player Syed Amjad Azlan also participated in the first round competitions and lost to English Declan James by 0/3, other Qatari Abdul Rahman Al Maliki, who participated by invitation from the organizing committee, also lost to the German Raphael Kandra, 0/3.
SOURCE: QNA