6 Reasons Why you Need to Get the New HUAWEI nova Y61 During this Sale Season!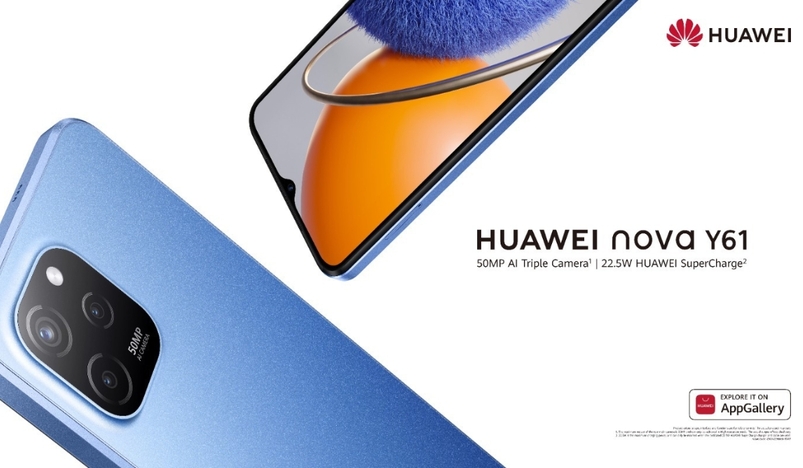 HUAWEI nova Y61
The HUAWEI nova Y series has impressed many with its design philosophy, strong performance and smooth user experience. As a series designed with the younger generation in mind, the HUAWEI nova Y series evolves according to the needs of younger users. The newest member of the series, the HUAWEI nova Y61, inherits its design DNA and incorporates a 50MP AI Triple Camera  that produces picture-perfect photos. With practical features like fast charging and a large battery alongside a dazzling design, the HUAWEI nova Y61 is an excellent choice for an entry-level smartphone.
Elegant Star Effect design and 50MP AI Triple Camera
The sleek design of HUAWEI nova Y61 is replete with the Star Effect Finishing. Its back panels glow when placed under light, reminiscent of bright galaxies. On top of that, the delicate yet minimalist rims give the phone a modern touch. The proportioned surfaces on both sides of the middle frame make the overall body slim enough for a comfortable, easy grip and stay fingerprint-free. On the back are three camera lenses arranged elegantly in a triangle, creating a visual balance.
And then there is the 50MP AI Triple Camera, which is another highlight feature of the phone. The 50MP Main Camera allows you to take high-res photographs with crystal-clear details and good brightness. The 2MP Depth Camera works in tandem with the 50MP Main Camera to produce well-lit aperture photographs that highlight the subject and their features in full clarity. Finally, the third 4cm Macro Camera lets users get close to subjects that are 4cm away from the lens to capture an unbelievable level of detail.
HUAWEI nova Y61 supports Super Night Shot, which allows you to capture gorgeous nightscapes without a tripod. Moreover, there is the AI-powered motion capture function, which intelligently detects motion through Huawei's scene detection algorithm. The camera's fool-proof point-and-shoot shutter adaptively adjusts the shutter speed and automatically freezes the moment of movement. 
The rear camera comes with a Slow Motion feature, which would be ideal for those who want to indulge in the details of a single moment, and observe the changing micro-expressions and little micro-movements of a pet, a toddler or a dancer. The camera is also built with Master AI, which can intelligently identify specific objects and scenes, optimise the colour and brightness, and capture better photographs in all kinds of scenes.
22.5W HUAWEI SuperCharge for smooth charging
HUAWEI nova Y61 users don't have to worry too much about the phone's battery life as it comes with the 22.5W HUAWEI SuperCharge that can charge up the phone from 0 to 47% in 30 minutes . The phone also has a smart battery capacity assistant. Through the built-in detection algorithm , it can intelligently detect the battery capacity, identify the status of the battery, and send out battery capacity reminders to consumers. In terms of battery and charging safety, there are a total of 20 layers of charging protection , fast charging protection, and USB port overheating protection.
Strong battery performance
HUAWEI nova Y61 is powered by a 5000mAh battery , which easily supports 9.5 hours of gaming, 25 hours of phone calls, 13.5 hours of web surfing, and 13.3 hours of video streaming . This means good news for heavy users, who desire a smartphone that grants them a smooth user experience for a multitude of lifestyle, work and entertainment needs. Now, you need not fear boredom on long commutes after work, even if the phone is not fully charged up. You can enjoy your games and movies on the go and let the power of the battery keep your trip home comfortable.
6.52-inch HD+ display
The HUAWEI nova Y61 comes with a 6.52-inch screen with a resolution of 1600 x720p with HD+ built in. On top of a high-definition viewing experience, users can also experience the phone's display with brand new features like the 8x Ultra High Resolution Touching Control and intelligent Dimming Control.
Seamless AI Life
HUAWEI nova Y61 supports Super Device, which allows seamless connectivity with just one slide of a button, and is compatible with gadgets such as HUAWEI Freebuds 3/4/5i. Users can also activate Simple Mode to get larger fonts, larger icons and louder volume – three features that allow greater accessibility. This feature will aid older-aged users who are trying to keep up with modern technology and desire a more simplified, easy-to-use user experience. Switching on Service Widgets can also help consumers set up various widgets and different pages according to different lifestyles and needs, tailor-making the smartphone experience for easier and more efficient usage.
Conclusion
HUAWEI nova Y61 brings features to entry-level phones that used to be exclusive to premium phones, which is fantastic. It gives you a premium design, 50MP AI Triple Camera, fast charging, a large battery, and a gorgeous display for an attractive price. And even more amazing, you also get a bunch of smart features, thanks to Seamless AI Life.