360 play Adventureland offer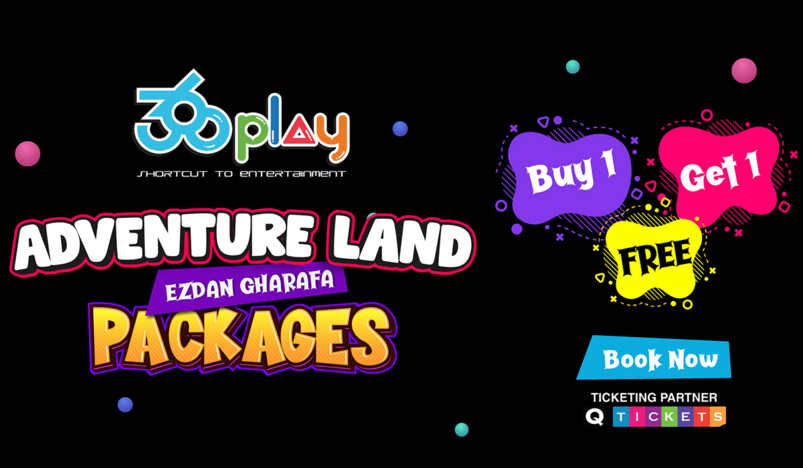 360 play
Let this Eid Al Adha be a joyful celebration that brings smiles to the faces of your little ones. Create lasting memories and make this festival truly special.
Adventure Land, an enchanting family entertainment centre nestled in Ezdan Mall, Gharaffa, and operated by 360 Play, presents an extensive array of over 200 exhilarating activities for kids and adults alike. 
From the thrilling Jump Trampo and Inflata Park to the engaging Fun Zone, Magic Painting, Touch Table, Role Play, and Art Craft, there's something to delight everyone. 
You can also test your skills with the 4-player Rubik's Cube Crane, engage in the Aliens Armageddon battle, become a Bowling Champ, hop on the Angel Carousel (Golden), zoom through races in Cruisin Blast Racing Car Game, experience the excitement of Epic Shoote and Hero Motor, unleash your competitive spirit at the Boxing Machine and Tekken 7, enjoy a ride on the iconic London Bus, venture into the Interstellar Space Capsule, navigate sea, land, and air in the MP5 ships, swing with the Minions Swing Car, or join forces with MP5 Spiderman. Fast Reaction and numerous other attractions await you.
"To add to the delight, 360 Play offers a Buy 1 Get one offer, ensuring double the fun and bringing even more smiles to your children's faces."
"Explore our exciting packages and discover a world of games and entertainment:
| | |
| --- | --- |
| Game Name | Description |
| Jump Trampo | Bounce and leap on the trampoline to reach new heights of excitement. |
| Inflata Park | Dive into a world of inflatable fun with slides, obstacles, and bouncing adventures. |
| Fun Zone | Experience an immersive zone filled with games, activities, and laughter. |
| Magic Painting | Unleash your creativity with interactive touch-table painting and role-play fun. |
| 4-player Rubik's Cube Crane | Test your skills and solve the Rubik's Cube puzzle using the crane in a multiplayer setup. |
| Aliens Armageddon | Battle against invading aliens in an epic shooting game with stunning visuals. |
| Bowling Champ | Step onto the lanes and aim for a strike in this exciting bowling championship. |
| Angel Carousel | Take a spin on the enchanting golden carousel and feel like a true angel. |
| Cruisin Blast Racing Car Game | Get ready for high-speed racing action and adrenaline-pumping thrills. |
| Epic Shoote | Engage in an epic shooting experience that will test your marksmanship skills. |
| Hero Motor | Embark on an exciting adventure with your hero on a powerful motorbike. |
| Boxing Machine | Put your boxing gloves on and challenge your strength with this interactive boxing machine. |
| Tekken 7 | Enter the world of intense martial arts combat in the renowned Tekken 7 game. |
| London Bus | Hop on board a virtual London Bus and explore the iconic sights of the city. |
| Interstellar Space Capsule | Blast off into space and explore the wonders of the universe in a futuristic space capsule. |
| Sea, Land and Air Ships (MP5) | Pilot a variety of sea, land, and air vehicles in this thrilling multiplayer game. |
| Minions Swing Car | Join the mischievous Minions on a swinging adventure with this fun swing car ride. |
| MP5 Spiderman | Step into the shoes of the iconic superhero Spiderman and unleash your web-slinging powers. |
| Fast Reaction | Test your reflexes and reaction time in this fast-paced and challenging game. |
Location: Adventure Land, Ezdan Mall, Gharaffa.
Online ticket bookings are available exclusively at Q-tickets.com.
Note:- This offer is valid only for online tickets booking from Qtickets.
"Share your favourite moments, videos, and reels with us, and stand a chance to be featured on our vibrant social media platforms. The first winner will receive 30 minutes of free gameplay on their next visit. Don't miss out! The submission deadline is July 26, 2023."
Let the adventures begin!
May this Eid-Al-Adha be a time for children's giggles, family bonds, and celebrations that leave a lasting impression on our hearts."