14th Edition Of Milipol Qatar 2022 Concludes With Numerous Records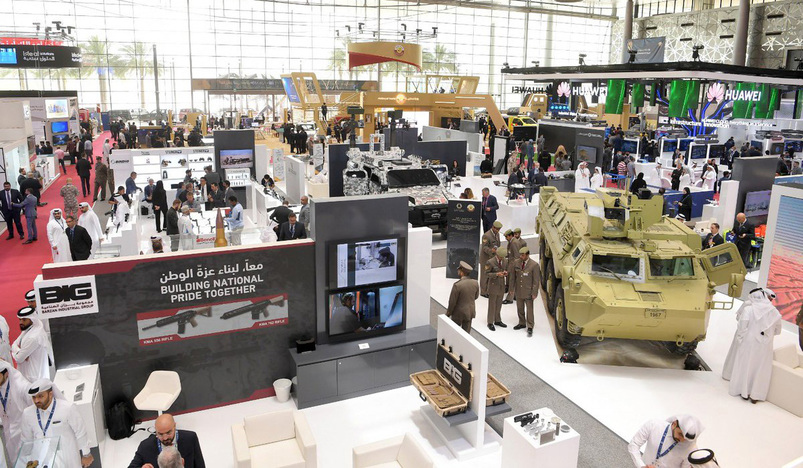 Milipol Qatar 2022
Under the patronage of HH the Amir Sheikh Tamim bin Hamad Al Thani, the 14th edition of the International Exhibition for Homeland Security and Civil Defense Milipol Qatar 2022 concluded today evening. The event was held at Doha Exhibition and Convention Center and lasted for three days, and 29, 2024 has been set as the date for holding the next edition.
During a press conference held on this occasion, HE Chairman of the Milipol Qatar Committee Major General Nasser bin Fahd Al-Thani confirmed that this edition has achieved great success and recorded numerous index records, indicating that the total value of deals signed during Milipol Qatar 2022 event reached 592 million Riyals and was visited by more than 11 thousand and 500 visitors.
He added that the exhibition covered its activities, events and pavilions by 587 printed, audio, visual and electronic Media from different countries around the world with the participation of 389 official delegations of Excellencies, Ministers and Police commanders from a number of brotherly and friendly countries, including Heads of diplomatic missions accredited to the state of Qatar and representatives of exhibiting.
HE Major General Nasser bin Fahd Al-Thani pointed out that this edition attracted 222 exhibitors from 22 countries from different world continents, among which 60 percent of exhibitors are participating for the first time, while the exhibitors that participated for the first time dispatched from eight countries, including Australia, Canada, Cyprus and Croatia. Finland, India, the Netherlands and Slovakia.
He added that the exhibition included pavilions representing 5 countries "France, North America, Germany and Italy", in addition to Austria, which is participating for the first time, as well as individual international participations. He pointed to the participation of 99 exhibitors from the State of Qatar, noting that many exhibiting companies expressed their willingness to participate in the next edition from Oct. 29 to 31, 2024. He confirmed that communication is currently underway to sign partnership contracts, since most of these companies are specialized in the field of Cybersecurity.
Regarding the benefits State of Qatar can gain from this important security event in securing the FIFA World Cup Qatar 2022, the Chairman of the Milipol Qatar Committee explained that marketing for security companies has been achieved to display their products to benefit from in the tournament, and many of them responded and participated in this edition, stressing that Cybersecurity and securing major events have become a matter of utmost importance to many countries, as Qatar is committed to keeping pace with the development as Qatar is moving in the right path to protect its security and the security of its people and their capabilities.
For his part, Director of Milipol International Events Francois Jullier stressed the importance of this major security event in the region in bringing together the main players in the industries of homeland security and civil defense and as a platform that creates fruitful connection between them.
He added that this year's edition was distinguished by its inclusion of security equipment, civil defense, anti-drone technology and firefighting, in addition to the sectors of technical solutions, safe management of major events, combating trans-border cyber crime, which is evolving and proliferating, in addition to confronting new generations of threats.
The Director of Milipol International Events expressed his admiration for the efforts of the Ministry of Interior for organizing such an important event, and for providing all means of comfort and support for exhibitors, and creating an appropriate atmosphere for concluding deals and agreements between exhibitors.
Milipol Qatar, which is organized every two years, allows companies to showcase their latest innovations in various sectors of security, civil defense, defense solutions and equipment, including security and communications technology, rescue and law enforcement products, communications software and security sector innovations.
(QNA)