'Meryal' unveiled as name of Qetaifan Island North waterpark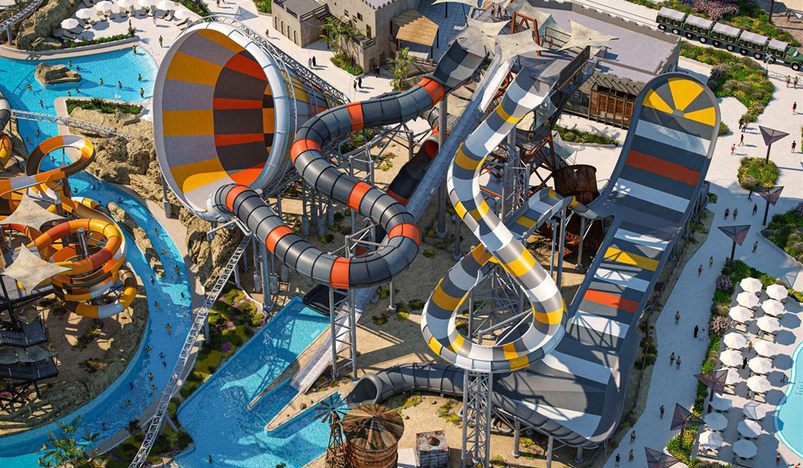 Qetaifan Island North waterpark
'Meryal' has been officially announced as the name of the state-of-the-art waterpark at Qetaifan Island North, its developer Katara Hospitality-owned Qetaifan Projects has said. 
The name and a live visual of the waterpark was on the opening day of Cityscape Qatar 2022 on Monday at the Doha Convention and Exhibition Center (DECC). 
The unveiling was chaired by Qetaifan Projects Managing Director Sheikh Nasser bin Abdul Rahman Al Thani, in the presence of Sheikh Nasser bin Abdulaziz Al Thani, COO Hesham Sharaf and Qetaifan Projects team.
The emblem and the name of the waterpark are inspired by the Qatari culture and the design of the waterpark is inspired by the history of the oil and gas discovery in Qatar. The name of the waterpark is easy to the tongue and could be pronounced by everyone despite the language difference.
Sheikh Nasser bin Abdul Rahman Al Thani, Managing Director of Qetaifan Projects, said, "The name Meryal comes from our love to the Arabic language, it showcases our history and culture that we take pride in, and it carries a word from the Qatari dialect to the World, which we hope will resonate worldwide with the promising future of Qetifan Island North as a touristic heaven, and the waterpark as an entertainment and a cultural landmark added to Qatar's landmarks. 
"The dream of Qetaifan Island North is about to become a reality, a project that started as a development of a waterpark that reflects our culture and history of the oil and gas discovery to the world, as well as contributes to the exposure of our identity that we take pride in.
"We are truly happy with what we have accomplished so far, especially given the challenges we have faced over the past couple of years. On behalf of Qetaifan Projects, we are proud to be working on this huge national project and we aspire to compete with and promote this distinct real estate project to international levels as the first recreational touristic destination that contributes to the promotion of our culture as well as working to serve the country's different sectors, perhaps the most prominent of which is the tourism and hospitality sectors."
The waterpark area is approximately 281,000 square metres, which comprises of 36 waterslides and the Icon Tower – up to 85 meters high with 12 waterslides for the adventurous and excitement enthusiasts, leading as the world's tallest waterslide recorded in the world Guinness records. The waterpark will also include a discovery game with 3D display and augmented reality technology that will take visitors on a historic journey back in time to learn more about the history of oil and gas discovery in Qatar and experience it first-hand.
Sheikh Nasser bin Abdulaziz Al Thani, Head of Business Development at Qetaifan projects, said, "The design of the waterpark was inspired by the history of the oil and gas discovery in Qatar, adding to it a historical and a cultural aspect, and establishing the identity of the waterpark. The colors used in the waterpark are "rusty", that is to give the visitors an idea and the feel of the oil and gas fields, but in the form of a waterpark. There is no doubt that there is nothing better than the history of the discovery of oil and gas in Qatar, which is actively contributing to the development of our country as well as promoting and showcasing our history and culture."